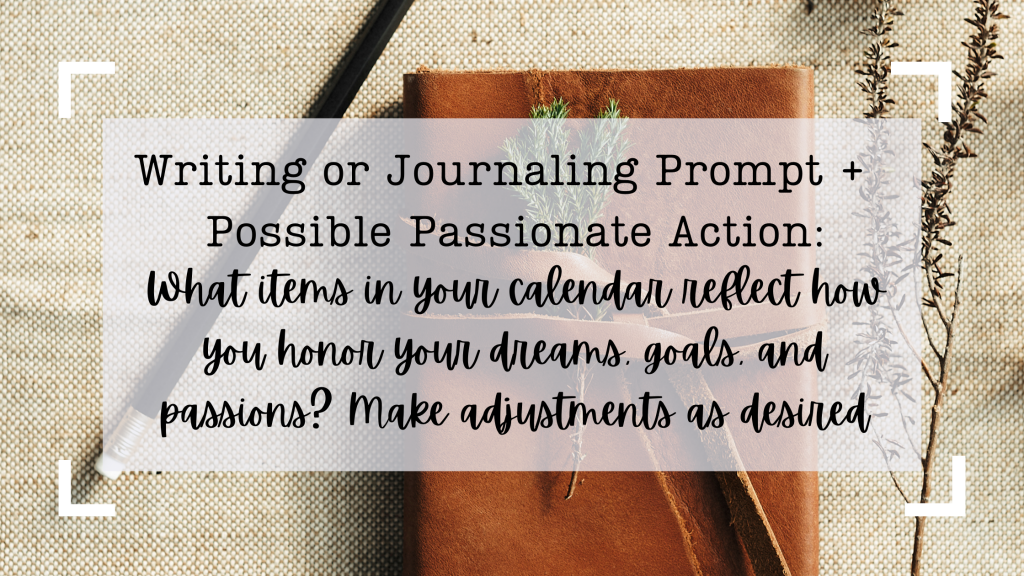 I know what it is to be a busy, creative entrepreneur with a family, a business and outside commitments that keep me busy. Sometimes it is a challenge to ask ourselves straight up questions like:
What items on my calendar reflect how I honor my hopes, dreams, goals and passions?
Because I know how important it is for each of us, I am going to go through the process myself. Warning: I get very vulnerable and honest. You may or may not feel comfortable doing the same AND that is completely fine. The best place to start is where you are right now.
Through this exercise I learned I needed to start on the edge of where I am right now.
I recently moved 3,000 miles from home partially because my calendar had been prioritized almost exclusively on making life work better for other people.
Assess What Went Wrong with Authenticity and Honesty
When I look back, I can say "I don't know how this happened!" or I can be honest and see the slow moving tilting into "other people's things matter more than mine" and "people seem to love me more when I do things for them at the expense of moving my projects forward."
If only I had started looking at my calendar according to me hopes, dreams, goals and passions I might have been able to stop the downward spiral before making such a drastic move.
Maybe I could have made this move because it feels good instead of because I was too afraid to even begin to put it into words what was happening.
Maybe if I stopped worrying about what I should be doing and instead took a more balanced approach between what would best serve my goals and ambitions and what would serve the ambitions of my children, my partner and my collaborative partners – there would have been breathing room left for me to work on the callings of my heart.
Step Back So The Reality is More Clear
Now that I have stepped back, I can see the genesis of this schism started due to trauma layered upon trauma layered upon trauma without taking time to heal, stretch or process in between the traumatic events.
I went to therapy intermittently, but I didn't ever go deep enough or out far enough beyond the traumatic episode to make peace and completely integrate the trauma.
There was always a sense of one of these:
"Hurry up! There isn't enough time!"
"People need me, I am only valued as far as I am needed so I better make myself indispensable now!"
"Be prepared for the next crisis!" Any ringing phone in the middle of the day meant there was a crisis at school which would require my instant intervention. I can't work normal hours, I can't take in many clients again after what happened that last time and an escalating sense of … I can't…I can't…. I can't….
Even while reading this short blog-post-in-progress I think "I can fictionalize this me character so no one knows."
Remember the most important Life Coaching Questions?
When I work with clients, some of the most common clients I ask them are also questions I am best off asking myself, too.
What am I afraid of?
Will you please take a deep breath with me? (and then repeat the question).
What am I afraid of?
Another deep breath.
What will it take to calm the memories of trauma right now?
One more deep breath –
I am safe now. I have plenty of time to do what I need to do. I am loved.
If these questions ring a bell for you, please use them as journaling prompts so that we can get back to the core of the initial question:
What items on the calendar reflect how you honor your hopes, dreams, goals and passions?
Here are examples of how I responded to these questions, unedited and raw:
What am I afraid of:
I am afraid people won't like, value or believe in me as a creative life coach if they see how fragile I can be at times of personal stress. In reality, there may be people who won't value or believe in me as a life coach -and those are not people suited to me or my coaching practice, programs or courses.
What will it take to calm the memories of trauma right now?
In this circumstance I wrote this blog post, even though vulnerable.
I affirmed in writing and meditatively "I am safe. I reminded myself the memory is not what is right now. There is plenty of time to do all I need to do. Plus I am capable of making adjustments as necessary. I am safe."
I reminded and practiced: I can always take calm, slow breaths. I can practice square-breathing. I can practice alternate nostril breath.
Return to the Real Work Once the Space has Been Held and Cleared for Movement Forward
Now I can clearly assess my calendar to see how I have done to create pockets of time for what is important to me.
Have I scheduled time to develop my most important projects, ones that will help me reach my financial and professional goals?
Have I scheduled time for my passion projects?
Have I scheduled time for self-care?
Immediately I feel better.
CS Lewis wisely wrote, ""You can't go back and change the beginning, but you can start where you are and change the ending." Your calendar may be out of balance right now, but paying attention will allow you to take action towards better solutions that may begin right away.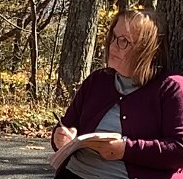 Julie JordanScott is a multipassionate creative who delights in inviting others into their own fullhearted, artistic experience via her creativity coaching individually or in groups, courses and workshops. To receive inspiring content and videos weekly and find out more about Coaching, Courses, Challenges and what's going on in the Creative Life Midwife world? Subscribe here:
Follow on Instagram to Watch IGTV exclusive videos, stories and posts about writing and the creative process.
Let our Words Flow Writing Community: the only one missing is you! Join us in the Private Writing Group by clicking here.