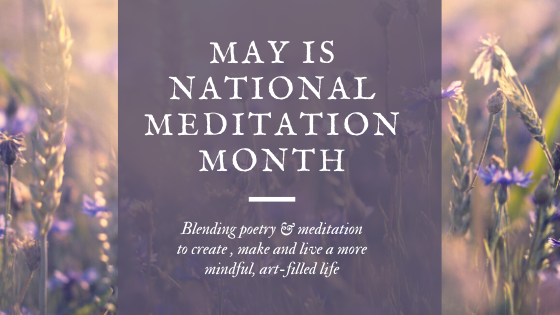 I learned this morning May is National Meditation Month. Seeing how I had so much fun with April being National Poetry Month and March being Women's History Month there must be something to woo my creative senses while at the same time connect me to something larger than me in the Virginia Woolf room pushing on letter keys to create some semblance of meaning during this strangely unfamiliar time we are living through right now.
In my world of no accidents, it makes perfect sense that May is for Meditation. My word of the month is Centering – that happened because I was reading a book about centering I had bought at a used book sale who knows when and the concept shouted "this is me!" and here I am, in the midst of being separate together with you and everyone else except my daughter.
Meditation and poetry is centering.
The planning me wonders, "How shall we optimize these wild synchronicities?"
The creative balanced with planning me says, "Well, naturally, you take poetry that you love by women which you are and you read a poem and allow the line that most centers you to be the focal point of wither a walking or sitting meditation every day in May!'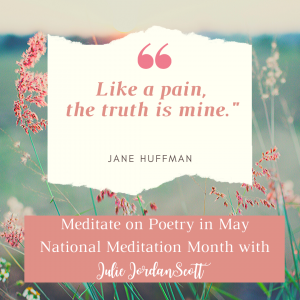 "Well, naturally" scoffs my "There must be a challenge facing me that I may gallantly solve!" or something like that and I realize I love this plan that for me sounds both a pure pleasure and a bit of stretch in daily commitment.
Tonight and until tomorrow I am focusing a line of poetry from "The Rest" by Jane Huffman, that goes like this: "Like a pain, the truth is mine."
We will also be sharing videos like the one below, essays and poems and more written from the meditations and poetry.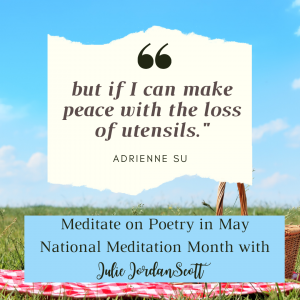 Images will be posted daily on Instagram and on the Writing Camp with JJS Facebook page and in the Word-Love Poetry Community. Lots of support for you to grow and play and experience peace, calm as you create, make and life a more mindful, art-filled life in May.
That sounds like a heavenly way to spend May. Perhaps it does to you, too.
Tell me in the comments. How was your April? What do you look forward to in May?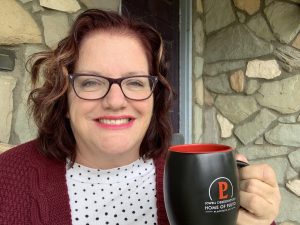 Julie JordanScott has been writing since before she was literate by dictating her thoughts to her mother and then copying in thick crayons onto construction paper. She was a pioneer in epublishing and continues to reach readers through her blog, best selling books, greeting cards and her essays and poems in anthologies. Join her for one of her upcoming #5for5BrainDump programs or an upcoming writing circle or writing for social media programs.