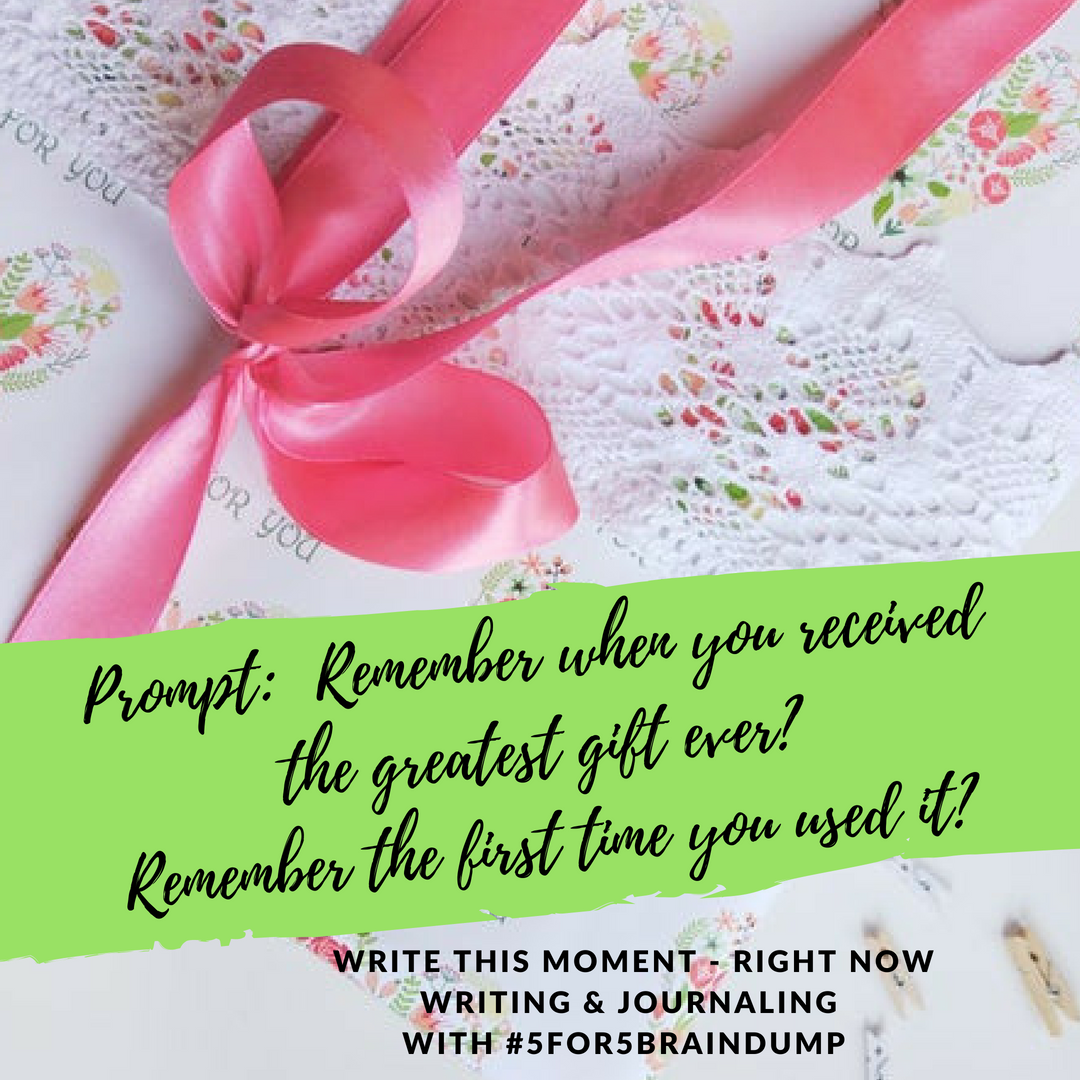 Writing Prompt: I remember when I received the gift of…..
This week in our #5for5BrainDump writing experience, we are exploring fresh starts and new beginnings.    
I was surprised when I myself felt blocked by the topic, even though I did oodles of research on a variety of approaches, I found myself stuck, stuck, stuck and then I thought….

Remember how it is when we receive incredible gifts and we are so thrilled and that wobbly, awkward discomfort is still there yet we often choose differently because of the excitement, because of the thrill – like I did when I got the gift of a guitar in 7th grade or the gift of my children or the gift of an afternoon off or at times the gift of a drink of water from a stranger when walking in the desert.

Today we're telling the stories of gifts, received.

Tell us a memory of receiving a gift. Later on today, write about this memory for five minutes for deeper insights – start with a comment here plus let me know if you would appreciate me building in a 5 minute writing session on a separate video.

Please be sure you are following the JJS Writing Camp page on Facebook – we will go live there at 4 pm Pacific Daylight Time


Exclusive content may be found in our facebook community. Please join us! You are most welcome in our Word Love Writing Community Facebook group


There is more writing fun to come through optional fun activities like a livestreaming "train" or "Word-Love Party Bus Ride" FB Live Word-Love Party Bus Extravaganza on Tuesday evening and on Periscope (we have one planned on Wednesday) .

There will be more about this after tomorrow's first #5for5BrainDump session.

I am thrilled to take this adventure in JOURNEYING with you!
With Passionate Gratitude and oodles of love,
Julie Jordan Scott