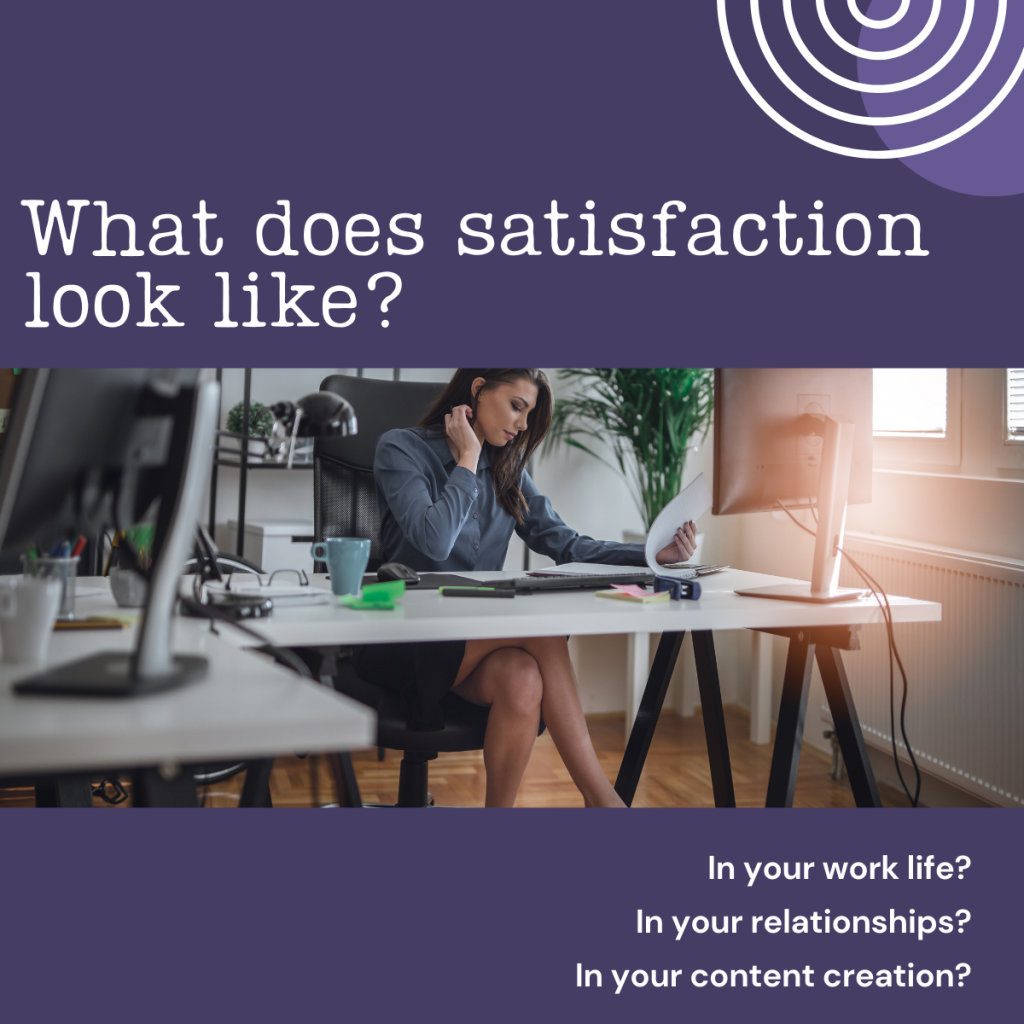 Two questions before we begin: allow them to circle around outside of your direct thought process as you read the rest of this post.
Begin with intentional questions: in this case, for livestream and written content, explore appropriate questions:
What does satisfaction look like to you?
What does the fulfillment of one's wishes, expectations, or needs, or the pleasure of any of these feel like for you?
Yesterday I hosted a livestream – a common experience for me on Sunday afternoons – with the primary intention of starting the week with journaling and planning according to what is discovered during that journaling session. Yesterday we chatted about three primary areas in the prompt:
Satisfaction, passion and purpose.
Why go live? With a basic outline (quasi-unscripted) and speaking freely, it is a form of "rough drafting" and when people are present, it has an element of market research.
Going live on Sunday afternoons is something I enjoy. I know going live and encouraging people  will provide value for them and has the possibility to make their lives better simply by following through with the writing from the prompts, especially when they take the wisdom they discover and apply it to their everyday lives. 
Here's a recording of yesterday's livestream which you may watch now – almost live – or come back later to watch and glean insight before writing from the prompts.
This morning – the day after I recorded the livestream, I used free flow writing to explore further: 
Free Flow Writing from the Prompts – even writing incoherently to anyone except for you – may be life changing.
This is what I wrote: Staying in satisfaction is a joy and a process and yet I know I cut myself off from it regularly, like I turn away from good people or possibilities because of my less than or other than reflex.
I am such an expert in turning from what is good and right and special about myself – so instead, I am stepping into this new space of satisfaction by recognizing the YES, instead!
When have I felt satisfied lately? Today?
Yesterday, I noticed the daffodils in front of the house. That was so sweet. They are gorgeous, so gorgeous and I want a photo with them. I will do that today if the light stays as nice and not so cloudy or overcast. The sky here is so beautiful, when I gaze at it the "what might be seen as wrong" evaporates.
Today I am wearing makeup.
Yesterday Julianne (note to reader: I consider Julianne to be my highest self. I use her as a writing companion and often address her by name in my "role over and write journal. I know, it is quirky and… I am quirky so… continuing now unedited) whispered something like "Let's wear makeup for a few days and see what happens." So I got up and put on makeup and curled my hair the tiniest bit and by goodness and gracious I feel happy about it and am smiling at my own face, thank you James Taylor.
This is one way satisfaction is experienced.
Satisfaction I have experienced is also deep breaths and writing these words while listening to classical music.
Satisfaction is walking in new places, trails, fun sidewalks. I realize I want to go walk in Glen Ridge simply for the joy. Retrace my steps. That would be so fun and perhaps slightly surreal. People who move away and come back or don't come back…. I am looking at the walls in here thinking "What to change to, what to stay the same?" and realize, thinking of these things is satisfying and taking action surely brings an increased satisfaction.
Satisfaction is staying in focus.
Satisfaction is also giggling when I don't stay on focus
Satisfaction is sometimes engaging with another human on focus mate and knowing I am better when I am connected, first with myself and then with other people.
Satisfaction is actually USING my planner 🙂
Satisfaction is the morning life in my home office.
Satisfaction is a tea cup from Czechoslovakia. Contrast is hearing the news out of Hungary… I didn't realize they have become a "pro-autocracy state" which makes me sad. Satisfaction in response is breathing love to the people of Hungary. I realize some people will not understand what "breathing love" means and some people will get angry about my use of pro-autocracy and I am claiming satisfaction for speaking what I believe and accepting the consequences of doing so.
It is so satisfying to breathe deeply into my own heart, and breathe out love, multiplied exponentially.
This is what satisfaction sometimes looks and feels like.
After we free flow write and after we live stream, we may continue to feel happy simply for taking action and allowing the action itself to bring us into the intended state.
I am sitting at my desk, smiling. I am in yet another focus mate session where my partner has the same name as someone I love. I wonder if they can see me smiling with a big dopey contented look on my face? They're probably looking at their own work on their own screen and either way, in taking the time to write about satisfaction – I feel better than I have all morning and it has been a marvelous morning so this says a lot.
These tools are simple, practical and enjoyable.
Let's go back to our original questions that you may now use as free flow writing prompts as well – if not now, perhaps later today.
Your writing prompts for reflection and action:
What does satisfaction look like to you?
What does the fulfillment of one's wishes, expectations, or needs, or the pleasure of any of these feel like for you?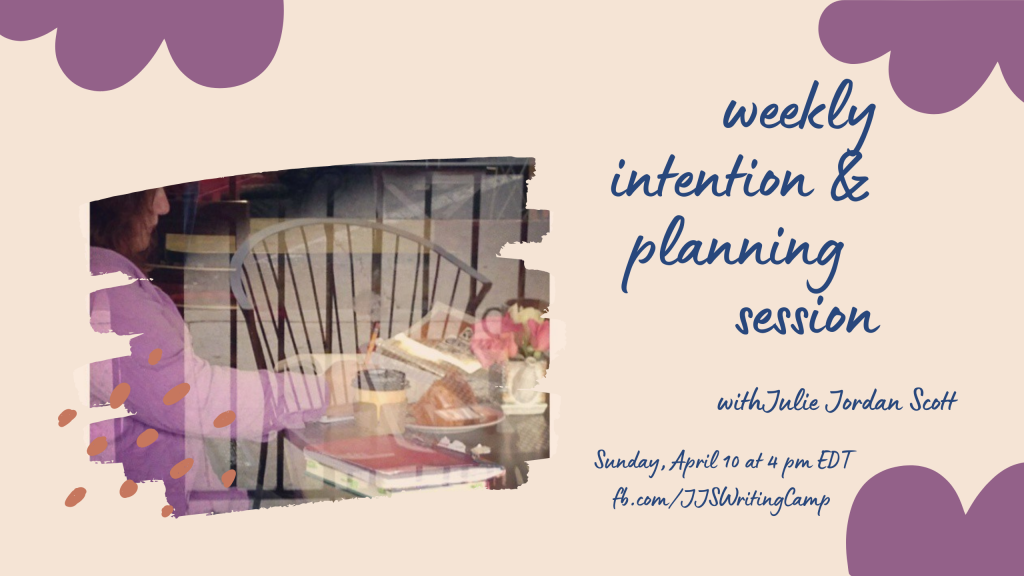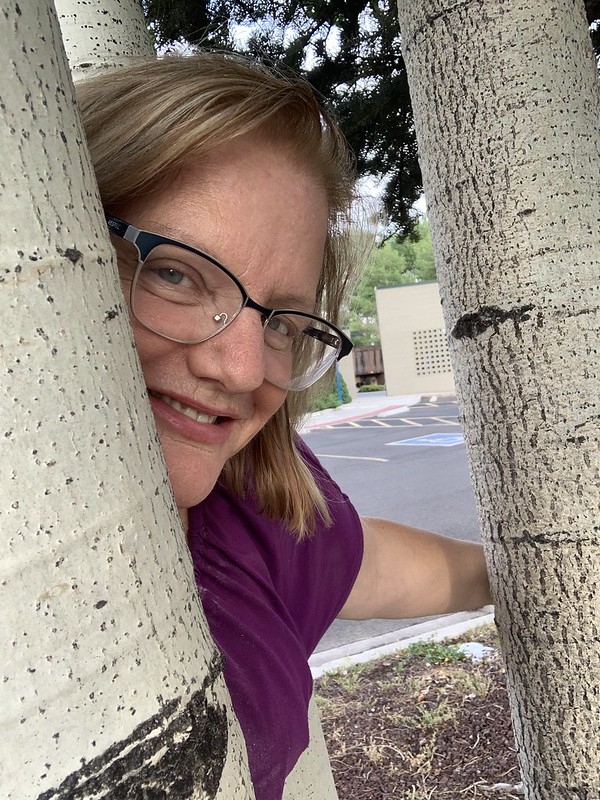 Julie JordanScott is a Creative Life Coach, an award-winning storyteller, actor and poet whose photos and mixed media art graces the walls of collectors across the United States. Her writing has appeared on the New York Times Best Sellers List, the Amazon best sellers list and on American Greetings Holiday cards (and other greeting cards). She currently lives in a manse in Sussex, NJ, where she is working on finishing her most recent book project, hugging trees daily and enjoys having random inspirational conversations with strangers.
Follow on Instagram to Watch IGTV exclusive videos, stories and posts about writing and the creative process.
Let our Words Flow Writing Community: the only one missing is you! Join us in the Private Writing Group by clicking here.