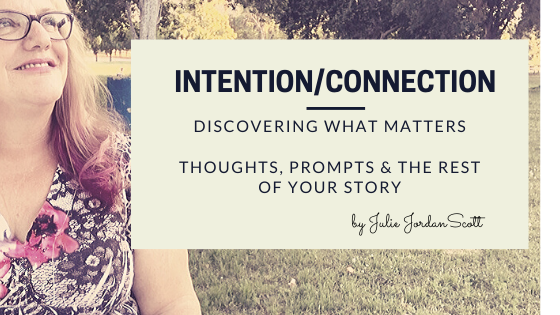 Last night I didn't feel well, so I opted out of book club and then tossed and turned and kvetched the night away, shaking my fist at the new moon until I allowed her to hold me close.
This morning I wrote my 35th haiku in thirty-five consecutive days. I haven't left my porch yet. I continued with my morning writing practice and lit my candle in another new, sustaining ritual pointing towards intentional connection in all I do, make and live. I did this before I drank my first cup of coffee.
I don't know what today will hold specifically and I have several distinctive containers – a toastmasters meeting and a book club meeting – for deliberate connections with people. As I wrote that sentence, it occurred to me I may take those appointments (before this I saw them as duties) as ways to truly see and hear specific people who also gather in these groups.
What I mean by "seeing and hearing specific people" is I will not only mindfully listen to people as they speak, I will also initiate conversations with people who may not be engaged – those who may be feeling left out or unimportant to others in the group.
When I show up this way it isn't so much of a battle to get there, although I believe a shower is in order and I have yet to achieve that!
Why is this worthy of sharing on my blog?
It is worthy of sharing because our future is built on our everyday moments, our conscious intention or lack thereof. If we choose to stay focused on anger and disassociation from everyone who doesn't think, feel, create and move through the day exactly as we do, we miss opportunities for surprise, delight and increased meaning and creativity.
What of this message today resonates with you?