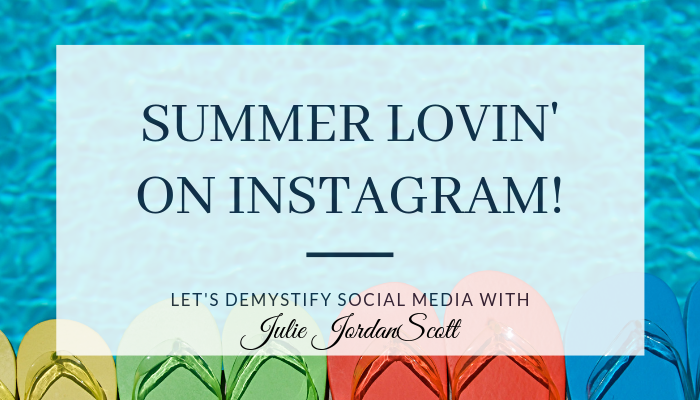 Demystify Social Media: And Have a Ridiculously Fun Time Doing It!
We're Summer Lovin' Your INSTAGRAM this August!
It always surprises me to hear people aren't having more fun with this dynamic visual social media platform.
Are you more worried about what to post on instagram than you are excited to have a lot of fun with social media?
Maybe it is because I see creativity as one of the most fun activities around and social media is, from where I am sitting, one of the most fun creative playgrounds out there! I literally get excited about seeing what you and I can come up with together.
There are images to play with!
There are captions to write!
Mix in fun with video where you get to talk and laugh and show people stuff: it is like going back to kindergarten when we all raised our hand shouting "me me me I want to go next pick me pick me pick me!"
Do you remember that? Even your shy, quiet classmates wanted to share their special something during show-and-tell.
I have come to learn more people are afraid of instagram than there are people who are exuberantly excited!
So what's up with that? Thjnk – before we continue – with where you fit on this continuum.
Imagine for a moment Instagram as one big fun exercise of show-and-tell. (Oh, how I loved playing show-and-tell.)
What would you be excited to show first?
This is the perfect place to begin our adventure.
What would you share? What would you show? What would you leap out of your seat to talk about?
You may be surprised to find it has nothing to do with your life work or your family or your part-time hustle or maybe it does.
What is it that fires you up in your free time? What would you show and tell about that?
Marcia loves roadtrips:
Sherry loves toastmasters: she has so much fun getting up and talking about discoveries and the new stuff she's learned. She might show a photo of herself stranding behind a podium.
My brothers love race driving and have actually made it into a career. They might show a photo of themselves in the pit crew or afterwards, on the podium winning a trophy or perhaps a track location.
Back when I had a conventional job I loved decorating my shelves. Perhaps I would show and tell a shelfie or shelf portrait.
Maybe I would share a car "self-we" because I have always loved taking people on road trip adventures, even when I was a coach/player of a church soft-ball team. Even when I was pregnant.
I am laughing as I am remembering. THIS is what you can look forward to when you demystify Instagram. It really is so much fun.
I'm already looking forward to see how your Instagram account flourishes under your loving, laughing, light and intentional creative touch.
Would you do better with your Instagram if you:
Felt more comfortable with the App and also with how to use your computer to compliment the App?
If you liked how your bio looks and sounds?
If you had personalized content prompts?
If you were able to write captions that feel aligned with who you are and what you are offering without sounding like everyone else?
Found out where to find photos, take photos, and use simple editing programs to maximize your photos?
Minimized the time you spend with Instagram even if you love it more than you ever imagined?
Knew how to create a content calendar that flowed along with your creative business?
Were able to make your instagram account look professional and intentional without spending so much time worrying about it looking professional and intentional?
How is the Course Offered?
We will meet via Zoom as well as have a discussion group where lessons will be posted, questions will be discussed and instagram images will be shared. We will also have supplementary (as needed and requeted) video lessons.
Our Zoom Sesssions will be on Fridays at 8:30 AM PDT for one hour on the following dates:
August 9: Optimize Your Instagram Bio
+ Creating the Best Images to Activate Your Know, Like and Trust Factor
August 16: Creating an "Instagram Aesthetic" that fits you and pleases the people you aim to reach.  Content Planning, Part 1
August 1
August 23: No Zoom Session: Practicum Week + Bonus ASK ME ANYTHING Zoom Session on August 20
August 30:  How to Promote Your Creative Business Offerings via your Instagram account
September 6: Taking Photos, Finding Photos & Getting Comfortable in FRONT of the camera in stills and videos.
Between August 9 and August 23, we will have an emphasis on practicum: being sure we apply what we learned in our first three sessions. We want to be sure to maximize your efforts on Instagram and across social media.
I want to be sure we stay happy and moving forward rather than getting stuck in the sludge of "This is too hard!"! Together we will play in the space of "There is plenty of time and I am perfectly capable to learn and practice playfully with all of this!"
Right now the price for Summer Lovin' with Instagram is only $88.
Even better, the first 8 people who sign up will be invited to participate in the Instagram Love-Jam Zoom Session. This will be a chance for us to dive into Instagram before we get started with the group and you can pick my brain for any additional insider tips, tricks and applications. It will be our "Mastermind before the Mastermind" – I normally charge $150 for these sessions so wowza, this is BIG!
You will be delighted with what you learn and how you grow your Instagram Account as we Demystify Social Media, Have fun with Summer Lovin' and make new friends along the way. I'm so excited!
Next Up! Details Coming Soon! We're Fall Harvesting our Live Stream Game (using FBL, IG Live and More) (September/October)