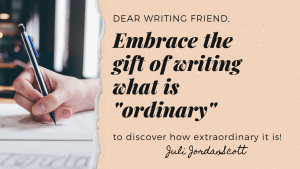 One of the greatest gifts we can give ourselves is recognizing the extraordinary in ordinary moments.
As I write this I am listening to an audio of rainfall in a library. I am sitrting in my Bakersfield living room "in real time" but I am listening to a recording that makes my heart so happy – and it is completely ordinary.
My coaching clients will often construct a desire or even a perceived need of a life reminiscent of a perpetual retreat experience – which would be very nice and for many of us is simply not where we are every day. Unfortunately, this also sets people up to be pretty miserable most of the time.
How to Discover the Joy in the Ordinary
One of the unusual ways I learned about the joy in the ordinary was through poetry, which many people believe contains a standard context of flowery, difficult to understand, "way above me" language and meaning.
Sunday someone said to me, "I don't consider this poetry. This is clear and easy to understand writing, it isn't poetry."
Why not write about coffee, then, or sunrise?
Some of my best early poems that weren't overly flowery or angsty were written about coffee. My first poem, in fact, was printed and carried by my love at the time. He enjoyed the poem that much. He may have liked his daily cup of coffee more, but it was a lesson to me that poetry didn't always have to be about crisis or struggle or ecstatic experience, it can be quite effective when it is everyday and relatable. 
This morning I was chuckling over a poem written more than three hundred years ago by John Dunne. We was writing about sunrise saying, "Busy, old fool, unruly sun."
He was mad that the sun was shining in his window at an ungodly hour, waking him and creating chaos in his mind. "Busy old fool, unruly sun" is such fun, simple word play it is clear all these years later. Ordinary and extraordinary.
Ordinary: 365 Times a Year, Sunrise Happens
When I wrote my first coffee poem, I hadn't discovered Billy Collins or Mary Oliver or even William Carlos Williams who wrote so effectively about eating the plums in his refrigerator and realized his wife may have had a different plan for the plums.  (For reference, that poem is "This is Just to Say."
This reality – that I could write poetry about coffee and an infinite ways to describe the sunrise – was quite a revelation. Poems don't need to be written about angst or discomfort or romance.
As I wrote this blog post, I found a poem I wrote in 2010.
In the poem, I write of the sun thanking me for taking the time to unwrap her. 365 or 6 times every year she reappears, most often without note. Ordinary and extraordinary all at the same time.
Write Like Jerry Seinfeld: Ordinary worked for him!
Jerry Seinfeld made a career out of joking about nothing in particular and my favorite television show of my twenties was a show about nothing (and everything) called "thirtysomething" – back then I thought they were so mature, Elliot and Nancy, Michael and Hope and their daughter named Jane.
Writing of the ordinary, extraordinary is as important a subject as one may ever have. Wrestling with the plain, the unflavored, the (what some might call) boring may become your favorite writing of all.
Perhaps you aren't ready to believe me yet.
In that case, your writing prompts await, not unlike a romantic suitor waiting to whisk you away for an evening of revelry.
Writing Prompts: Discovery & Writing Practice Specialized for Your Form of Writing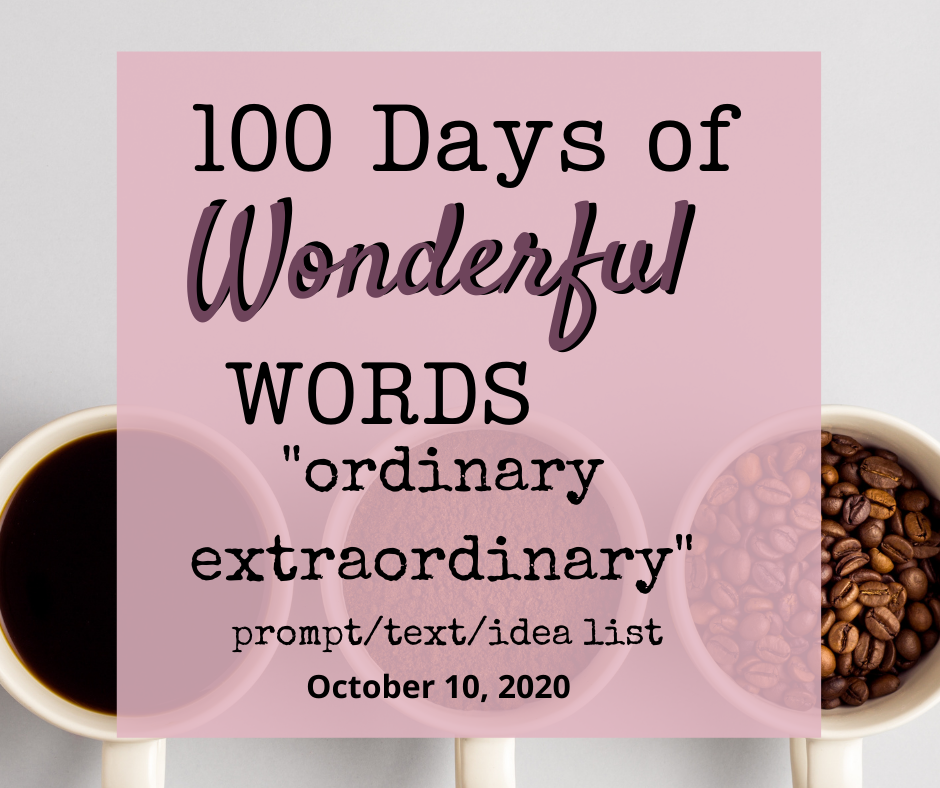 Copy & Paste Texts: (Use these to copy right into your text or direct message box and send – or personalize for your situation. Surprise someone with a text message they weren't expecting!)
It doesn't need to be a special day for me to remind you how special you are to me!
I'm drinking my morning coffee wishing I was sharing a mug with you.
I just watched (name a TV series or movie) and it reminded me of the simple yet wonderful days we have had together!
Entrepreneurs: What is the most extraordinary (yet seemingly ordinary) quality of the product or service you provide? How can you accentuate the simplicity of it?
Social Media Posts: What you think is everyday in your life may fascinate your followers. Show your most behind-the-scenes/behind-the-scenes in an upcoming post.
Video Prompt: Project yourself back to your school days and make a video that is about a "how-to" and share something simple like tying your shoes or how to hold a pencil. Then stay very present to the reality there may be a time when people no longer hold pencils or tie shoes. 
Fiction Writers: Set the stage for a regular/ordinary day in the moments before something really outrageous or unexpected happens. 
Lifestyle Bloggers: The pandemic has given us a lesson in how quickly things change. Share a blog post of something that has stayed the same – and why you treasure it even more now.
Memoir/Life Writers: Take a dull scene you need to write in order for a more interesting scene to make sense and insert an interesting object to spice it up. Yes, make the object the star and see what energy that gives to the sequence.
Poets: It was a poem about coffee that helped improve ALL my writing. What is something everyday YOU will write about?
Copywriters: How would you sell and market a completely ordinary project? Write some practice copy and then think how to use it in your actual copy assignments. 
Journaling Quotes & General Prompts
"I never doubted that equal rights was the right direction. Most reforms, most problems are complicated. But to me there is nothing complicated about ordinary equality."
Alice Paul
Prompt: When people make things more complicated than they are, I wonder…..
"If we had a keen vision of all that is ordinary in human life, it would be like hearing the grass grow or the squirrel's heart beat, and we should die of that roar which is the other side of silence."
George Eliot
Prompt: I imagine the sound of grass grow is much like….. And that makes me feel (continue to follow the thread to see what unlikely place the sound of grass growing may take you.)
"My mother is a big believer in being responsible for your own happiness. She always talked about finding joy in small moments and insisted that we stop and take in the beauty of an ordinary day. When I stop the car to make my kids really see a sunset, I hear my mother's voice and smile."
Jennifer Garner
Prompt: Watch a sunset and write what you see… like the sun is giving dictation.
Find a supportive writing community via a Facebook Group: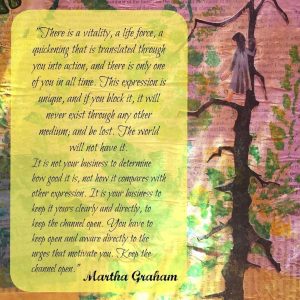 How would your writing productivity change if you received varied, niche driven writing prompts daily – also fiction, poetry, entrepreneur, copy writing and video prompts are offered, join the Private Word-Love Writing Community on Facebook by clicking here.
We look forward to writing with you!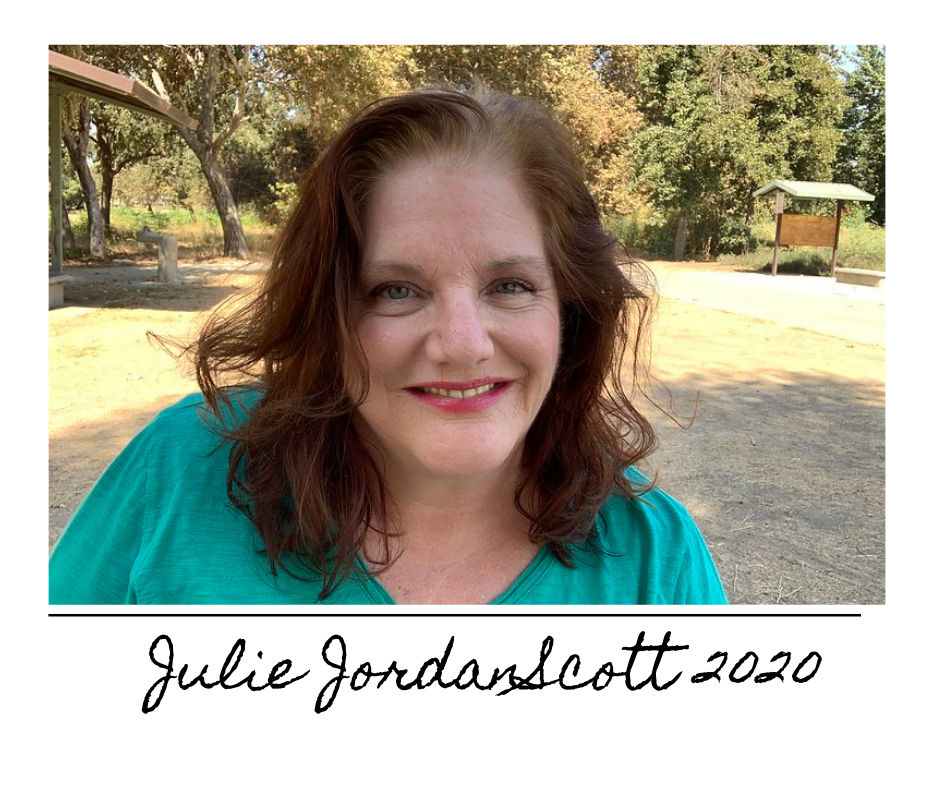 Julie JordanScott lives in Bakersfield, California in a house too small for quarantine life. She leads discussions on Zoom and is polishing her most recent memoir and some poetry for soon-to-be publication. If you would like her to speak to your group over ZOOM until travel is available again, she would be happy to talk to you about that OR maybe you are looking for a slightly quirky, very open hearted, compassionate and tender Creative Life Coach. She would love to connect with you soon.