Join the Conversation. Allow Yourself the Surprising Joy that Arises as a Result.
My love affair with moon blossoms started during an exceptionally happy, satisfied time of my life when I would go to the river bed – an arroyo, a space that would house water if there was any to be housed, but at its best that season it was empty.  This allowed me to sit in the center of it all and have great conversations, watch the sunset, howl with the moon and be surprised by the sounds of urban nature.
I fell in love with absence during that time: I understood something didn't need to be there at all for one to acknowledge and love it anyway.
If the river had been flowing, I might not have noticed the heavenly scent of the moon blossoms, so pungent at night.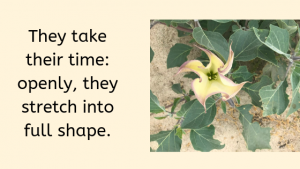 Last Friday night, I came upon my first blossoming patch of the season near twilight. None were fully open. They sat alongside a different portion of the flowing river. This summer, a lot of flow due to last winter, lots of rain and snow.
I had to go take a look, to pay homage to who I was and who I am and the presence of the moon blossoms amidst all of it.
Considering the current work I am doing, I made this two-minute video.
Please take a look:
Now, consider the prompt as an invitation to conversation. Bring it up with friends and co-workers. Ask on Twitter and make an Instagram post. "What is prosperity to you? How would you define it? When have you experienced it?"
Now – consider the moon blossoms.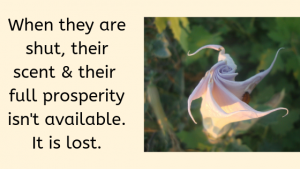 "What is calling you to blossom, in darkness or in the light or anywhere? What is calling you to blossom into abundance and prosperity?"
Let the words flow, either on the page or in conversation.
A couple things before you go:
Take a moment to follow me on social media and on YouTube. If you are a blogger or writer across any genre, I offer valuable methods to keep your words flowing.
Leave a comment here, as a way of pledging your devotion and commitment to keep your writing prosperity, your word abundance flowing. If you would enjoy additional support I am offering to tag people in my daily instagram story time lapse posts as a way of saying "Ta-Da! I did it! I did my daily writing!"
The world is waiting for your words… let's get them on the page now.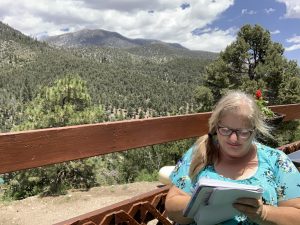 Julie JordanScott, the Creative Life Midwife, is a writer, a poet performer, a Creativity Coach, and a Mother of three. One of her greatest joys include loving people into their greatness they just aren't quite able to realize yet. To set up a complimentary exploratory session, please visit here. Be sure to follow her on Social Media platforms so you may participate in one of her upcoming events. You won't want to miss a thing – your future self will thank you!