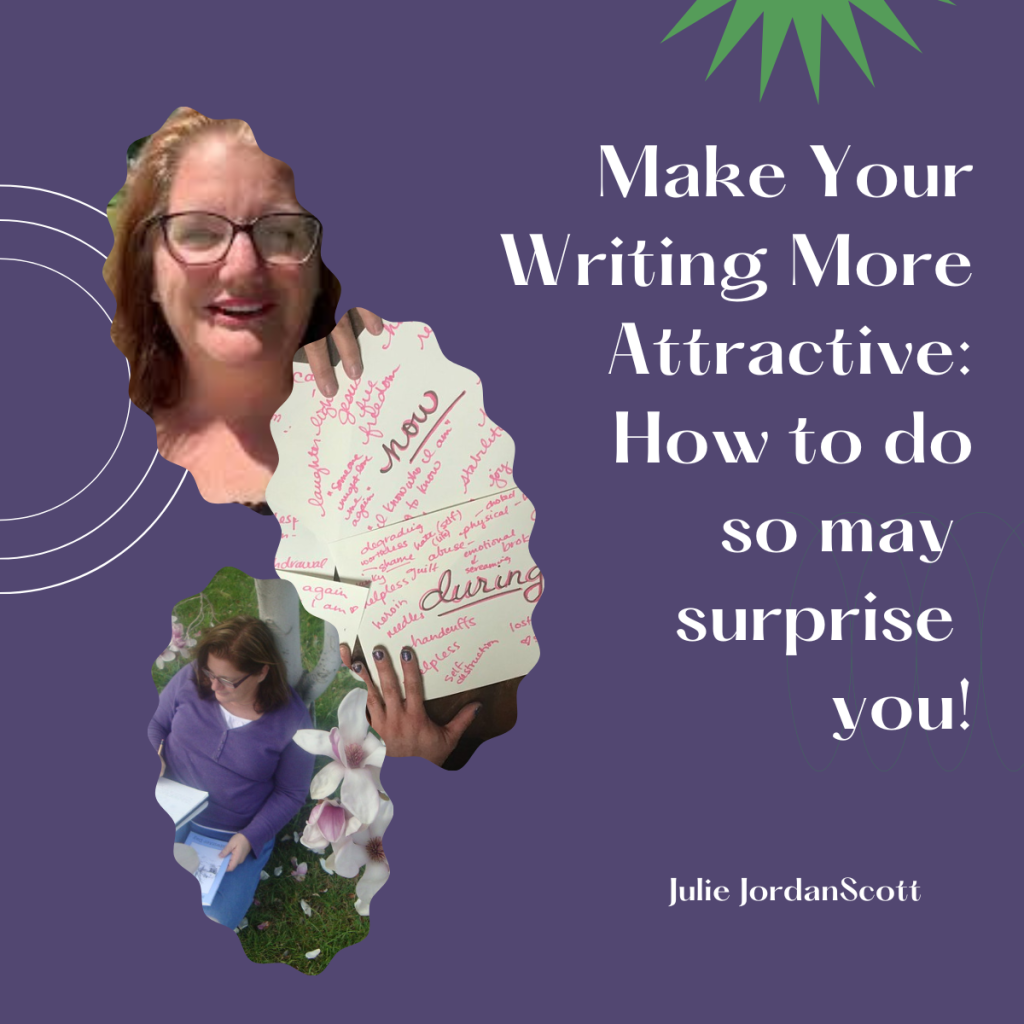 Bloggers, Novelists, Poets, Content Creators all want to create work that is attractive to others.
One of our dreams is often to draw people to our work as if our posts, books, collections were magnetized.
Here's the thing: you may intentionally magnetize whatever you write through filling your writing with your most empowered beliefs and your values so that people are compelled by what you are saying or sharing. If you are writing unintentionally from limiting beliefs or concepts that are outside your values, you may be unconsciously sending people away from your writing.
How do these intangibles become attractive to your audiences and readers?
I am a multi-creative and once upon a time I directed the play "First Kisses". One of my colleagues from the theater community approached me with a surprised and slightly embarrassed expression on his face and said, "Julie, I have to say I really liked this. I can't tell you why, but I really, really liked it." His eyes silently said "This is entirely not my cup of tea content wise, but there was something in it that drew me into the experience itself."
What drew him in was the intention I created with the actors and technicians who brought the written words to life. His enjoyment and attraction to the work was based on what we added to the script, intentionally.
How have your favorite – and not so favorite – authors used this?
Have you ever started reading a book and realized although it was outside your usual genre, you didn't want to stop reading?
Today, consider this: magnetism is because the person who created it took their empowered beliefs and their values and through the combination of these two intangible qualities created a work imbued with an energy that can't be explained in a conventional way.
This is a lot to take in. Instead of exploring all the possibilities here – I will ask you to spend some time this week thinking about what you believe, underneath the chatter, the arguments and grandstanding, what rises to the top every time?
How to easily gain clarity about your beliefs and values that may be in hiding under the surface:
Be gently curious with yourself. Instead of forcing yourself to "find the right answer" simply ask yourself, "What do I truly believe?" and then go about your activities of the day.
Every evening, ask yourself the question again, "What do I truly believe?"
In the morning, take time to write the question by hand and respond to it by hand, "What do I truly believe" and allow the thoughts to flow without thinking, planning or arguing before you start moving your pencil or pen across the page.
After you have written, set your notebook or piece of paper aside and repeat for at least three days.
You will discover a pattern you may not have noticed until now.
Repeat with "What do I truly value?"
Also notice what your behaviors prove you value. For example, if you state you value quality relationships but you spend zero time with your best friends and family, you are not leading a life aligned with your values. The good thing is, you are taking the time to fix this habit.
Remember to continue to ask the question, explore with writing and perhaps have some conversations with friends so you may talk out your discoveries. Just like with your writing, don't edit or judge what you say – if your friends or families are judgmental, take note of that and perhaps try making a video for your eyes only to watch instead so you may hear what you truly believe and value.
If you would like to begin the process here, write in the comments one thing you believe and/or one thing you value. If that is uncomfortable, simply let me know you were here.
Bonus Video to Gain Understanding
As a bonus, here is a brief video I made this morning for you on this same subject. It's only three minutes and perhaps by watching it you will pick up something more than simply reading the words.
Julie JordanScott is a Creative Life Coach, an award-winning storyteller, actor and poet whose photos and mixed media art graces the walls of collectors across the United States. Her writing has appeared on the New York Times Best Sellers List, the Amazon best sellers list and on American Greetings Holiday cards (and other greeting cards). She currently lives in a manse in Sussex, NJ, where she is working on finishing her most recent book project, hugging trees daily and enjoys having random inspirational conversations with strangers.
Follow on Instagram to Watch IGTV exclusive videos, stories and posts about writing and the creative process.
Let our Words Flow Writing Community: the only one missing is you! Join us in the Private Writing Group by clicking here.