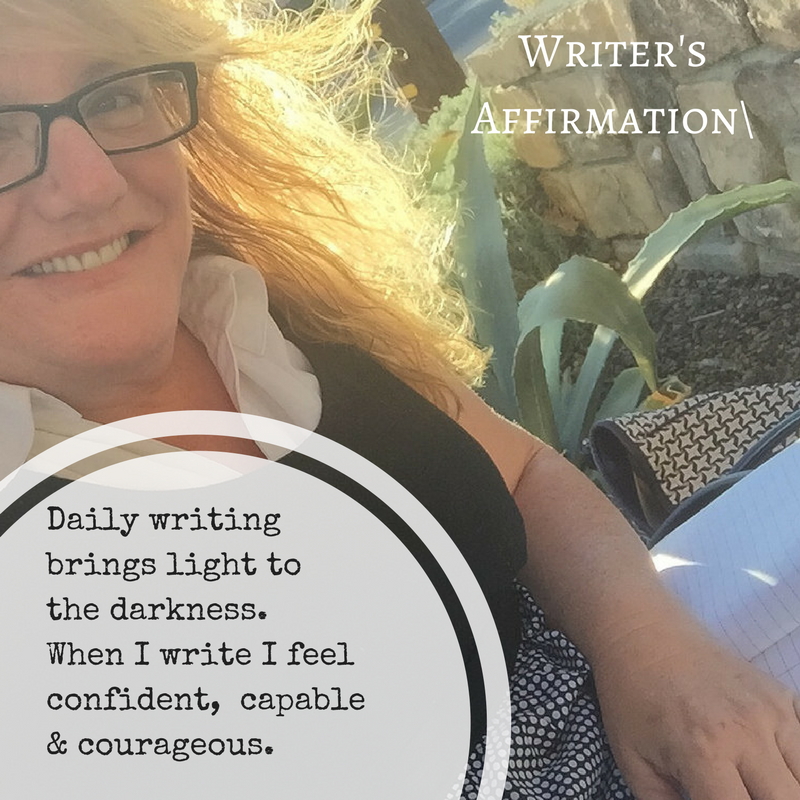 I didn't know for certain whether I would write today. I've been feeling lousy – new medicine and adjustments to it have not been smooth – and I just didn't feel like it.
Yes, that would be me, who knows and has known for years, the value of daily writing practice.
What is up with that?
I sat at my desk for a tiny slice of time and made a writing affirmation image and realized the message was as much for me as it is for anyone else.
Funny how often that happens.
So I will stand hand-in-hand, heart-to-heart, soul-to-soul with the affirmation I just wrote.
Read it, say it, write it with me now:
Daily writing brings light to the darkness. When I write, I feel confident, capable and courageous.
Yes, that statement is true. I have remembered and written into that truth so many times: daily writing does bring light to the darkness. It helps to process what may feel unsayable until it is written. It is silent and you are with it alone – with no one else lobbing judgment at you, you say to yourself what is so and in doing exactly that, you shine the light on it.
When I confess to the page, "I feel lousy, this medicine has been kicking my butt straight into silence" is like a flashlight of clarity. "Wow, it has been keeping me from doing what I love. I haven't done many livestream broadcasts because I've been so tired. I haven't made many images and beyond my braindumping, I haven't written at all."
The light of clarity reminds me I don't have to stay in this zone of silence, this disempowering slice of experience.
Instead, I realize while it may be the medicine's side effects at cause, I may now make choices and step into a variety of solutions.
And writing for five minutes, #5for5BrainDump style has power.
Here's more evidence.
(My timer went off three sentences ago this time. I'll stop and hit publish, even if the confession itself feels wobbly. That's part of being courageous.)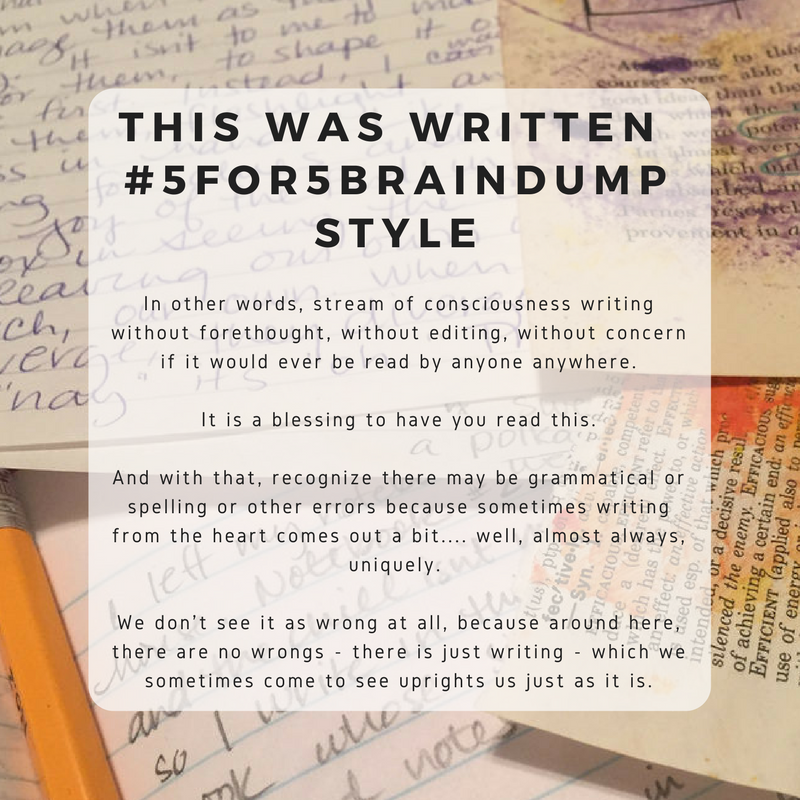 Julie Jordan Scott inspires people to experience artistic rebirth via her programs, playshops,
books, performances and simply being herself out in the world.  She is a writer, creative life coach, speaker, performance poet, Mommy-extraordinaire and mixed-media artist  whose Writing Camps and Writing Playgrounds permanently transform people's creative lives. Watch for the announcement of new programs coming in soon!
To contact Julie to schedule a Writing or Creative Life Coaching Session, call or text her at 661.444.2735.
Check out the links below to follow her on a bunch of different social media channels, especially if you find the idea of a Word-Love Party bus particularly enticing.