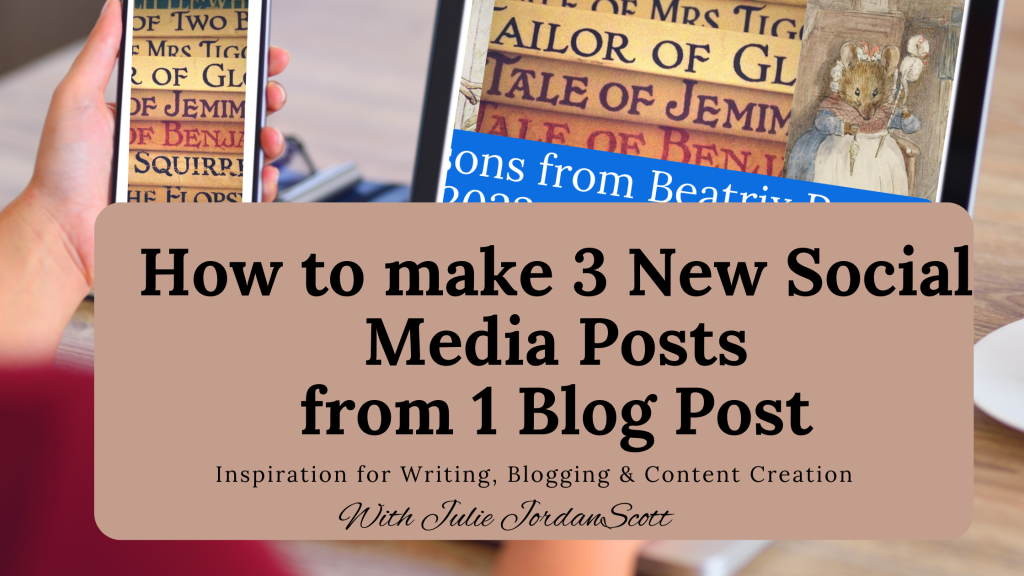 One of the biggest challenges for people wanting to impact the world positively through social media is finding the time to "get it all done".  Without a strategy – and without the means to manage one's to do list – we run the risk of becoming discouraged. 
Instead, let's look at how simple it is to take one blog post to create 3 or more completely different social media posts. Repurposing – using content in different ways – will connect and engage different people with your messages. It will also inspire members of your community and yes, bring more people into your blog and beyond.
The easiest social media post to make from your blog post is to take your blog image and use canva to resize it to use on social media stories.
Social Media Post Example 1: A Story
For example, I took the 3 Easy Content Strategies from Beatrix Potter post earlier this week. Before I even published my blog I had an image ready to share on instagram and facebook stories. This is an effortless way I shared that story along with a link to my blog post. 
On Instagram, I also shared the story into  a highlight (by the way, if you look my highlights are not updated and need work – all in good time) so it will also be accessible in the days and weeks to come.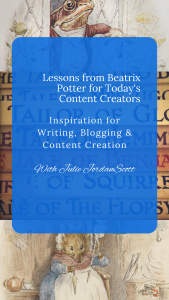 This is how the story image looked – note how I left space for the link in the story so people can go straight to my blog post from the story.
What I am doing next is recreating the blog post into no more than 5 sentences to share on Linked In, Facebook, and/or in an Instagram Post or Carousel Post.
I simply go into the blog post again and use the headers as my "sentence starters." This is my starting place – and I may even edit it down to shorter sentences but this first new social media post will work wonderfully as is, don't you think?
Example 2: Condensed Blog Post to the Facebook Business Page and the Linked.
Below is an example of what I gleaned from the original post – below are links so you may see what it looks like on those platforms.
It might surprise you to know Beatrix Potter, a 19th Century children's author, has wisdom for 21st century content creators.
Beatrix Potter was actually a multi-passionate creator who was an entrepreneur, a scientific illustrator and a wildlife conservationist who started writing her beloved Peter Rabbit – the work she is best known for – in order to have something to share with the sick child of her governess.
It was in her dedication to science experiments, mostly "amateur" and her hunger for knowledge that helped her artistic endeavors
Beatrix Potter's greeting cards and stories that began as letters to a sick child turned into what we would now call "merch" were not because she wanted to launch an empire we would still be talking about all these years later, but because she was a woman who followed her fascinations and lived according to her passions.
She meant what she said when she wrote, "With opportunity the world is very interesting."
Inspired? Here is a prompt for you to use to create a story or social media post following the lead of Beatrix Potter:
What is something delicious about what you are offering or observing today? Relate what you are offering to a specific flavor and be silly, creative, surprising with what you say. Try this in the form of a letter like what Beatrix Potter did for her governesses child.
See this story on my Linked In Page here:
See this story on my Facebook Page, Writing Camp with Julie JordanScott
Example 3: Simple Social Media Quote Graphic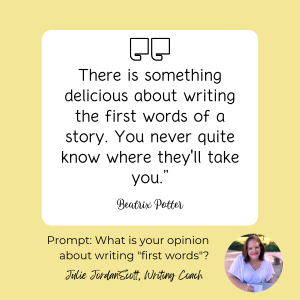 To write a simple third post, find quotes by Beatrix Potter your readers may enjoy. Use the quotes to make simple Canva graphics and share them daily in a facebook group, in a message to your email list, or make a free quote ebook giveaway or lead magnet.
The effort (which isn't much) will make the endeavor quite satisfying.
While I was on Canva I took 5 minutes to make two different sizes so tomorrow I can post an Instragram Carouself post. See how simple this all an be with a bit of strategy?
Beatrix Potter was a scientist. Repurposing content is like a science experiment. You might even make it a deeper scientific experiment by checking out the analytics as you begin implementing these ideas.
What is your biggest take away or gold nugget from this blog post?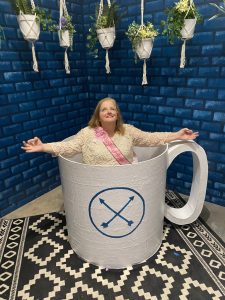 Julie Jordan-Scott is a Creative Life Coach, an award-winning storyteller, actor and poet whose photos and mixed media art graces the walls of collectors across the United States. Her writing has appeared on the New York Times Best Sellers List, the Amazon best sellers list and on American Greetings Holiday cards (and other greeting cards). She currently lives in a manse in Northwest New Jersey (Sussex Borough, Nj) where she is working on finishing her most recent book project, hugging trees daily and enjoys having random inspirational conversations with strangers.
Follow on Instagram to Watch exclusive reel videos, stories and posts about writing and the creative process.
Let our Words Flow Writing Community: the only one missing is you! Join us in the Private Writing Group by clicking here.