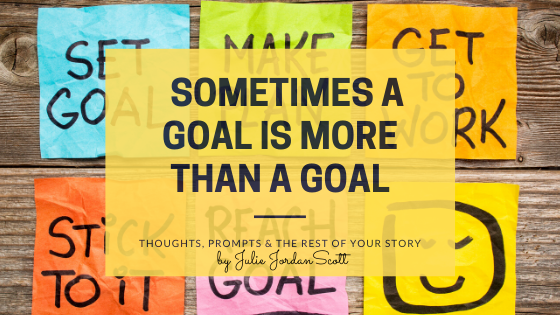 Sometimes a goal is much more than a "GOAL!!!"
It took me a long time to understand this fully and completely, with my whole heart. Recently I created a goal about travel. No, it isn't about the Top 50 Destinations to reach before I turn 50, it is a goal about how I want to experience traveling.
It is stated in the present AND it is part of my overall life vision for the next ten years. Here is how I wrote my goal:
Travel is regular, sacred, joyful, smooth sailing and extra comfy.
Imagine my delight when the goal first came to fruition within two months of writing it. That trip became a good model for future successes with this same goal.
Last Fall I joined a book club. This is not unusual, I have a propensity for joining book clubs. I love books, I enjoy hanging out with bookish people and this particular book club filled a different niche – it is an empowered women book club. It only meets once a quarter so why not? I have a goal to read 52 books this year, so adding another book club helps me to keep my reading choices unique and fresh because they aren't necessarily what my hands would reach for first.
I was also meeting some brand-new-to-me people.
One of these younger women recommended a book to me by Rachel Hollis called, "Girl, Stop Apologizing." I quickly discovered the writing voice of the author is not one that is appealing to me. Her personality was not one that was appealing to me. Her content was extremely familiar and I might have put it down and forgotten it under other circumstances, but since it was an ebook I checked from the library, I breezed though it grumbling much of the way until…. Rachel Hollis wrote of crafting a ten-year-vision plan.
At first I scoffed at this. Let's be real, I am too old to be reading this book by the chirpy Rachel Hollis whose other New York Times Best Seller was "Girl, Wash Your Face." Furthermore I am too old to be writing a ten-year-plan.
"I almost died in October" seems to be a common refrain for me lately.
There was something in her message, though, something that compelled me to consider and complete a list of ten separate goals to make up my ten year vision plan.
That one small yet not small action has changed everything for me.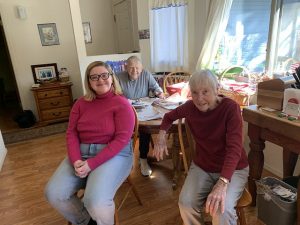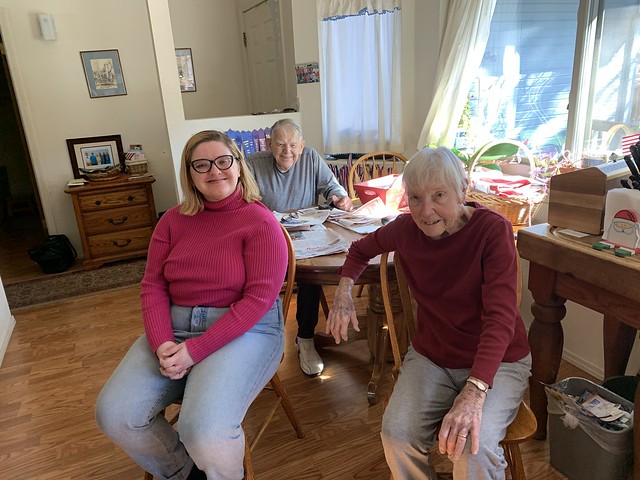 Last week I returned from visiting my parents in Flagstaff. This is something I had wanted to do since last May but never did. In December when I visited Katherine and Donald in New Jersey, I declared I would be going to Flagstaff and nothing would stop me!
I would visit for my birthday! It would be great!
January 29 rolled by and I was still in Bakersfield.
I became even more vehemently determined, possibly because between my visit to my daughter and her husband, I created this goal as a part of my ten-year-vision plan.
Travel is regular, sacred, joyful, smooth sailing and extra comfy.
The thing about a ten-year-vision-plan is it isn't something "to do later" it is something that is perpetually living and breathing and morphing.
My trip to Flagstaff with my middle daughter, Emma, was the first challenge of this goal. It was my first test of the ten-year-vision plan. I originally wanted to go on this trip alone (which would have insured the "smooth sailing" part of it) but I didn't want to leave Emma behind.
I wanted to see my parents more than I was going to let a possibility of not smooth sailing or not comfy get in my way.
My elderly parents live in their own home in a neighborhood on the western side of Flagstaff. They bought it "when we were young!" my father said. They were about my age now, which I will gladly claim as young.
My mother now has Parkinson's Disease and has balance issues and moves much more slowly than she used to move. My father is also much slower. Their daily highlight is going to the senior center for exercise classes. For the most part, they stay home other than that and running errands like going to the grocery store.
This required our daily visits to their home to be much more of a collaborative art of… sacred, joyful, smooth sailing and comfy. My parents didn't know of my goal, yet they gracefully helped me fulfill it.
No one was rushing, no one had anywhere else to go or anything else to do except be exactly where we were. Everyone was in a good mood and happy to be together.
Emma and I stayed at a nearby motel that included an indoor pool and Jacuzzi and was located next to a bookstore and was close to downtown. We were able to explore what fascinates us – for Emma that meant Vegan dining and an fabulous crystal shop, for me it meant lots of places for haiku writing and photography in tucked away alleys and places with history. I also visited a park and took a short hike I had forgotten I meant to take more than ten years ago.
Do you have a travel goal as a part of your overall life vision?
2020 is the first year I am able to respond with an unabashed "Yes!"
In my ten-year vision plan, my overall travel goal sounds like what you have read repeatedly in this article:
Travel is regular, sacred, joyful, smooth sailing and comfy.
I am thrilled to report we met all of these goal-oriented sign posts during this trip to Flagstaff. The visitwasn't about sprinting around to see how many places we would visit or doing any particular activity, it was about the quality of the experience.
I'm looking forward to deciding where I will visit next: I have a feeling my nomadic adventures are going to start sooner than I thought – and with this visionary goal crafted, I know it will be achieved in a soulful way.
How may you create and fulfill a travel goal with the same amount of pleasure and ease?
Consider how you would like to feel during your travel.
Consider the sort of memories you would most like to have when your travel is over.
Think about your traveling companions and modify your plans accordingly.
Stay committed to clear communication throughout the experience.
Set your date for travel and start reserving accommodations!
Stop putting off what is most important to you. What October taught me was not only about my mortality, it is about how interconnected we all are – and how much joy the simple things in life bring.
If it will help, commit in the comments to your next travel adventure. Next, return to let me know how it went.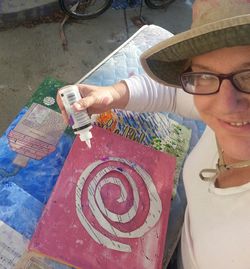 Julie JordanScott, the Creative Life Midwife, is committed to Eradicate Loneliness through intentional connection, passionate purpose and creative expression. Sign up now to stay connected with the movement and receive inspirational emails to insure you will minimize loneliness for yourself and those you love. Visit EradicateLoneliness now to sign up for free.