Let's replace naysaying – taking away people's joyful visions and instead become active yay-sayers: celebrating accomplishments through joyful acknowledgment.

What has your experience of naysayers been like? The practice of naysaying can be like pouring poison over my ideas. Depending on whether or not I am having a good day or not, someone sneering down their nose with a critique can shut off my positive, forward moving flow almost immediately.

Recently in Brene Brown's book, Atlas of the Heart, I read about freudenfreude: experiencing joy from other people's joy. I did my own research and found a fascinating article from Dr. Catherine Chambliss from Ursinus College. She wrote, "Schadenfreude refers to the unattractive human tendency to take pleasure in the misery of others. Freudenfreude describes its opposite, the lovely enjoyment of another person's success."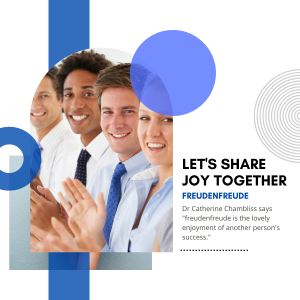 Let's fill our day with freudenfreude and yaysaying. When someone says something they are happy or proud or delighted by, I challenge you to respond with yay-saying and curiosity. First, share sincere praise and celebration. Follow it up with a question about the success.

Here are some questions to use and modify for your purposes.

* Your idea is so interesting to me – how did you come up with it?

* Oh, you must feel so great. What will you do next to go further with this?

* I love how you told this story. Do you have any advice or wisdom so I may learn just a tiny bit from your success?

These questions both intentionally share the joy of the others accomplishment and they also may help you determine if this is a person you would like to develop a deeper friendship with, too. If they don't want to share the tiniest bit of how they got there or what they're dreaming of next, perhaps you don't want to spend more time with them after all.

On the other hand, if they are friendly and generous to share their joy a bit, this is a signal that the yay-saying may indeed become reciprocal. In the future, they will be more likely to be a person who understands the value of freudenfreude and shower you with joyful praise, too.

We need more of this in the world, don't we?

Speaking of which, what have you accomplished lately? I want to share your joy!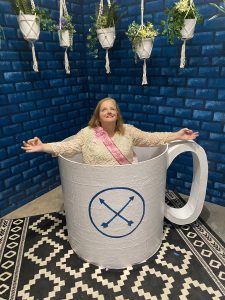 Julie JordanScott is a Creative Life Coach, an award-winning storyteller, actor and poet whose photos and mixed media art graces the walls of collectors across the United States. Her writing has appeared on the New York Times Best Sellers List, the Amazon best sellers list and on American Greetings Holiday cards (and other greeting cards). She currently lives in a manse in Sussex, NJ, where she is working on finishing her most recent book project, hugging trees daily and enjoys having random inspirational conversations with strangers.
Follow on Instagram to Watch IGTV exclusive videos, stories and posts about writing and the creative process.
Let our Words Flow Writing Community: the only one missing is you! Join us in the Private Writing Group by clicking here.