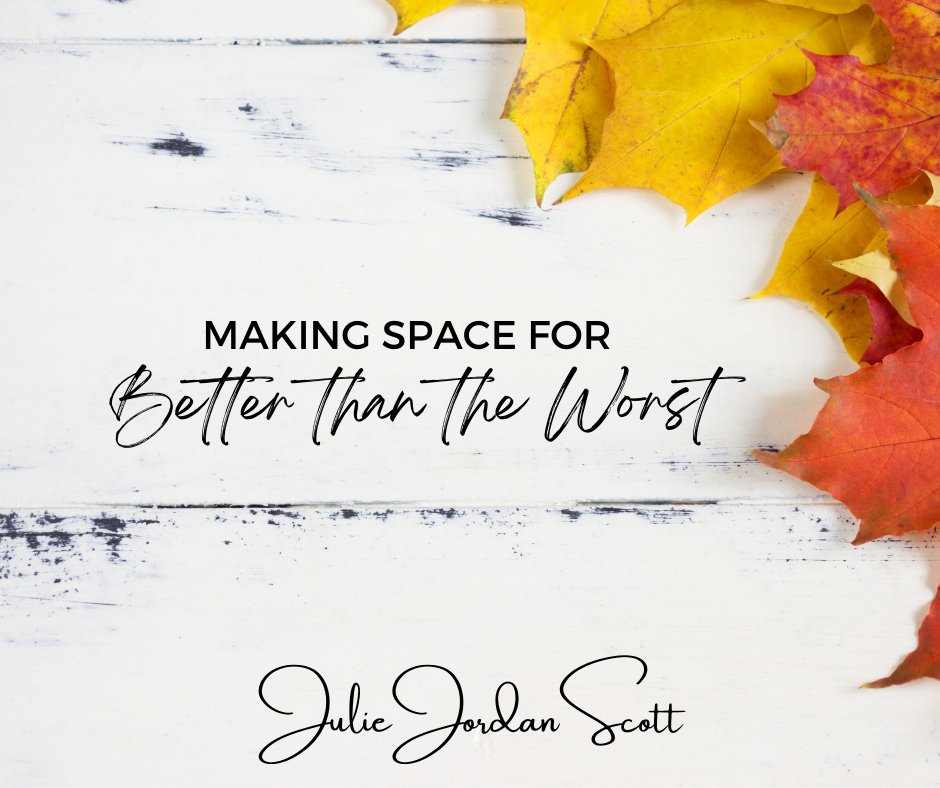 Yesterday I felt the familiar slide into the blues – and I am using that term loosely. I don't want to say I felt the well worn path toward a downward depressive spiral though that would be accurate, too.
I don't want to give depression that power.
I asked myself a personal power question:
"What can I do tomorrow morning to keep myself moving toward feeling-better-than-right-now?"
I didn't mean take on something huge like walk five miles at a top speed or similar physical feat, I simply knew myself well enough that the tilting down of the weight of the blues could land me flat on my face in mud or dust or worse. I knew I single-handedly possess the ability to take an action in the direction of better.
I have the capacity to choose to move forward, with love – or lurch toward the ground in despair.
This isn't always true – I was on the edge of a breaking point.
Mental health has plagued me over the years. My optimism tends to confuse people who don't understand how this goofy, happy go-lucky whistling, happy song-singing, tree-hugging poet can shut herself off from others for no obvious reason.
This morning as I started a focus-mate session, I was surprised by the flat affect that still hovered within me. I am grateful I witnessed it – as the short-fix feel better medicine of taking action: walking on the nearby wood-duck trail and hugging an old oak tree is the beginning of feeling better, not the finish line to feeling better.
When the focus mate session was over, I mentioned to my partner I couldn't find my spotify off button and was concerned my "Cozy Christmas Instrumental" playlist might be a bit much. On the contrary, my focus mate partner loved it. We both ended the session smiling. I know I was smiling.
Human connection, acceptance and cozy instrumentals all make me feel better.
Have you ever taken the time to notice what lifts you up when you feel the blues sweeping into the room?
Do you or does anyone you love experience dark days (or longer days that stretch to weeks, months or more?)
It is important we normalize these moments of sadness and don't shame ourselves or others or pretend them away. 
You could choose to start a conversation by asking about it: "What might make you feel better?" and be prepared for "Nothing" or "I don't know."
Besides tree hugging and walking by myself or writing, having other people simply be with me is a big help. Talking isn't necessary, but presence feels really good. Listening to or watching TV, reading books side-by-side. Silently sipping tea and looking out the window, all are better with someone beside me – also quiet without pushing me to feel better so that they may feel better, too.
James Clear wrote, "Every action you take is a vote for the type of person you wish to become." While I agree with the energy and meaning of this quote, I look at it more like every action I choose to take builds self-trust and provides evidence I am worthy of continuing to move forward, with love and do the creative work I was put here to do.
Today, I am feeling better. I am not dancing on the rooftops gleefully and I am mindfully present to my circumstances. There is no hyperbole, no numbing out and no racing throughts.
It could have so easily slid into much worse.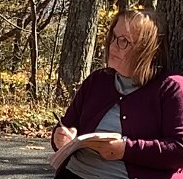 Julie JordanScott is a multipassionate creative who delights in inviting others into their own fullhearted, artistic experience via her creativity coaching individually or in groups, courses and workshops. To receive inspiring content and videos weekly and find out more about Coaching, Courses, Challenges and what's going on in the Creative Life Midwife world? Subscribe here:
Follow on Instagram to Watch IGTV exclusive videos, stories and posts about writing and the creative process.
Let our Words Flow Writing Community: the only one missing is you! Join us in the Private Writing Group by clicking here.