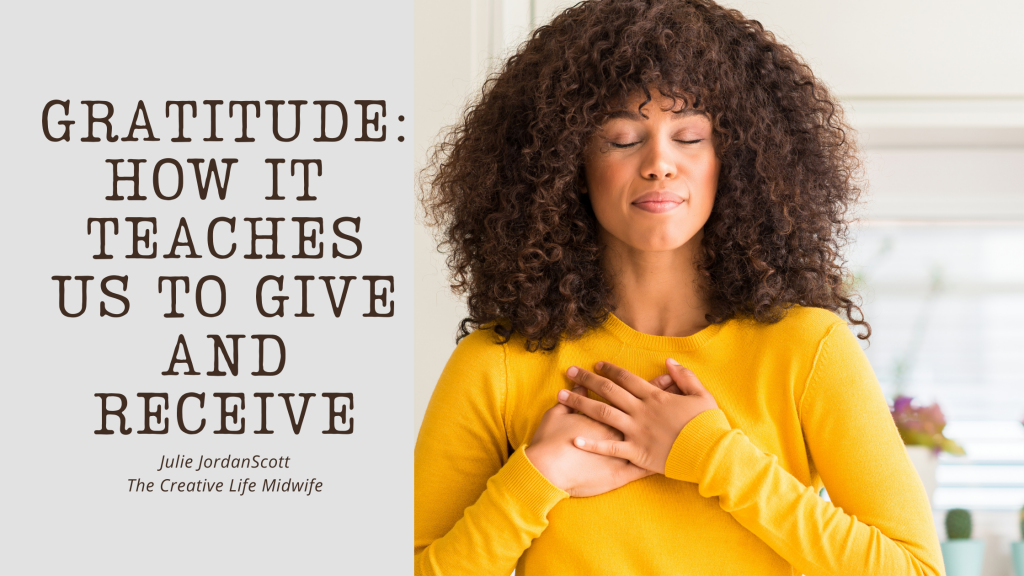 Tis the Season to be Grateful: are you expressing your gratitude intentionally or in a more haphazard way?
Let's tune into Grace, Gratitude and Giving
I have had an active gratitude practice for years. Although I don't journal gratitude daily right now, I definitely know the power of paying attention and speaking thankfulness into the world whether that means aloud to people or via writing – on social media, on my blog or in engaging with others.
I wasn't always a fan of gratitude until I had an a-ha moment and connected gratitude to receiving. Because of this connection, the relationship between gratitude and abundance came more clear.
The not-so-true "It is better to give than receive" myth
How often have you heard (and possibly repeated) the phrase, "It is better to give than receive"?
Giving is a blessing – especially when mindful -is an important practice. This may be in stuff, it may be in a compliment, it may be in presence and time. My love language is quality time so the best people can do for me is to simply be with me. Deep and meaningful conversations are among my favorite activities.
The problem is, if everyone is giving, who is open to receive from our wellspring of giving?
Introducing the Infinite Loop de Loop
Our giving, when conscious, comes from the gifts of who we are – and how our gifts offer goodness and light to fellow members of the human community is started from divinity, our creator, God, the Universe.
We can complete that process by receiving with an open heart and a wildly-in-wonder smile on our face.
When we receive, we finish and spiral to the next level of what was divinely started.
This infinite loop de loop continues over and over and over again and is stopped when… someone decides giving is the thing, receiving is not the thing – and (sometimes or) we decide we aren't worthy to receive.
Is this starting to sound familiar?
Blocks of all kinds start with the inability to receive.
Most often the inability to receive is based on our opinion and judgment of ourself. We are not worthy of receiving, we are not good enough, we are somehow "less than" others and therefore need to continue giving even when our well is running very close to dry.
I confess, I have come in and out of blocks many times, most often based on my inability to receive.
The way through the block is to receive with active gratitude.
Inhale and fully receive what has been given to you. In fact, when you breathe in, you are receiving life-giving oxygen.
Bring that oxygen into your lungs and feel the energy of breath – of inspiration – fill your body.
When you exhale, you are giving breath back to the world.
Sometimes I create a vision of my exhale expanding upon the gifts I have received by offering what I know, what I love, what I am coming to understand. I can see the breath of inspiration swirling around me and reaching out to others who are also open to receive.
With every mindful inhale and exhale, I am adding to the increase of abundance in my life and I am adding to the increase of abundance in other people's lives.
That, my friends, is beyond words amazing. Before you click away, practice breathing like this.
It feels so good!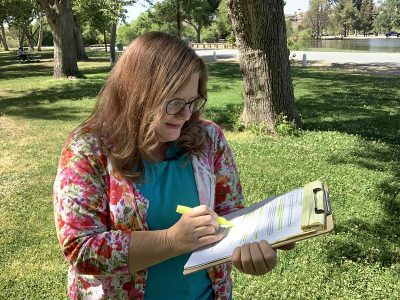 Julie JordanScott is a multipassionate creative who delights in inviting others into their own fullhearted. artistic experience via her creativity coaching individually or in groups, courses and workshops. To receive inspiring content and videos weekly and find out more about Coaching, Courses, Challenges and what's going on in the Creative Life Midwife world? Subscribe here:
Follow on Instagram to Watch IGTV exclusive videos, stories and posts about writing and the creative process.
Let our Words Flow Writing Community: the only one missing is you! Join us in the Private Writing Group by clicking here.