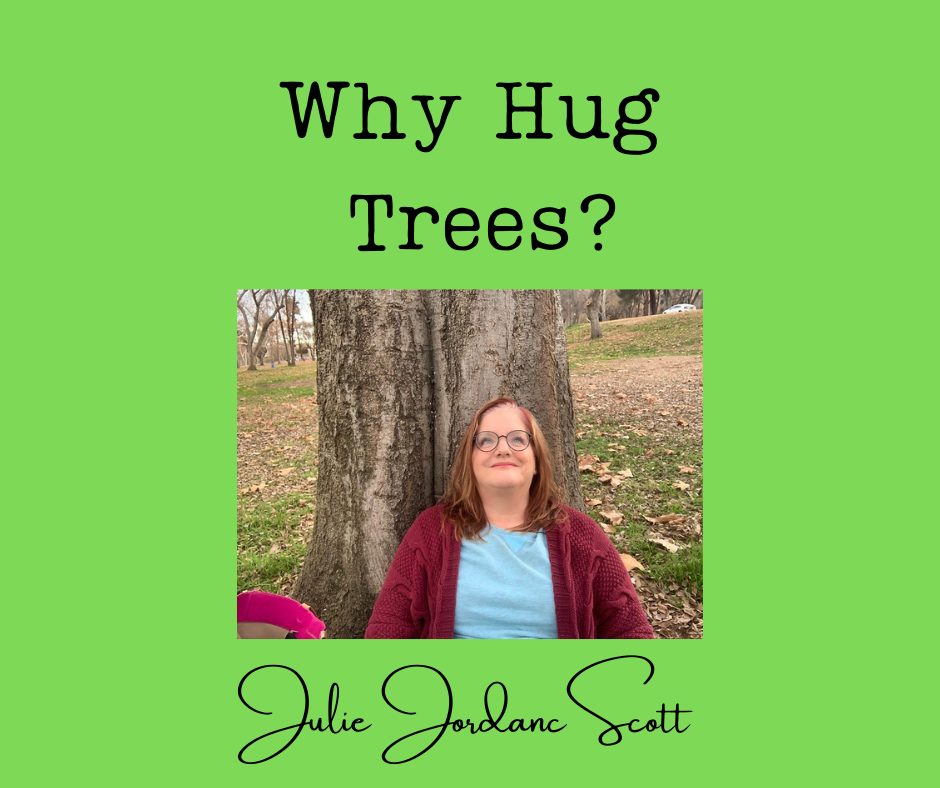 Truth is, tree hugging being or not being connected to my work as a creativity coach didn't cross my mind when I embarked on this adventure otherwise known as a three-year-connected adventure of hugging trees from the United States, coast to coast.
Many of my peers are obsessed with only creating niche related content. I am not.
Emphasizing my daily tree hugging for nearly a year is definitely not within the standard realm of my profession.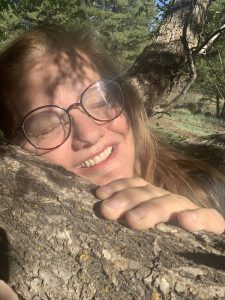 I was simply looking for a way to continue feeling better after surviving a near-death experience. The first year after sepsis and Valley Fever almost killed me, I wrote haiku. This helped me start and continue to write daily, a practice I gave up in the hospital and was difficult returning to afterwards.
I didn't know when I started that practice that we would be reeling from a pandemic and ordered to stay in place and physical closeness became something rare except for those we were quarantined alongside in our homes or small groups.
Tree hugs became a way to continue healing both of myself and reaching energetically to people I wouldn't be able to reach otherwise.
It is sort of how my writing aesthetic works: I love words and I love the people who read my words.  I don't only write about writing or creative practices. Truth be told, often times my best ideas and insights and a-ha's come when I am tromping around on walks or hikes or sitting in diners, rummaging through book shops or used book stores or hugging trees.
I love the people in my courses, classes and workshops. I love the people who I work with as a writing and creativity coach. I love trees. I love dark skies with stars calling out, their bright light taking my breath away.
Sometimes, when we are all courageous enough, we allow our words to flow out into the world with intentions for soul connection and expansion of love and confidence and the ever-wished-for optimism which for many has evaporated completely.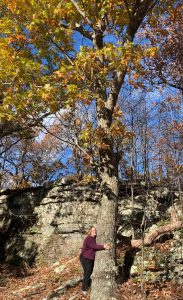 I'm coming to the end of my original tree hugging goal and I may revise the goal, to continue hugging trees adding 100 tree hug days (when I hug one-or sometimes more) daily.
Since December 21, 2020, tree hugging has….
Given me a task to do each and every day – sometimes it was "on the way" and sometimes it WAS the way (when I may have stayed closed up indoors, it gave me a reason to get out.)
Connected me to people in different ways, even inspiring some people to hug trees for the first time and then share those hugs with me. This has proven how tree hugging is a medicine, especially when many of us weren't able to hug the people we love.
Once again I proved to myself how one daily, consistent act has exponential results far beyond what we imagined when I started. Some of the conversations while tree hugging have been priceless. I even made an instagram reel of my 300th tree hug because of what someone said as he "caught me in the act."
Tree hugging gave me daily physical time and connection with the divine creator – and helped me to see how when I create, I am honoring the gifts I have been given – especially when I take time to "report back" via social media posts and other random and not-so-random spaces.
What does tree hugging have to do with my niche? Nothing and everything. You tell me.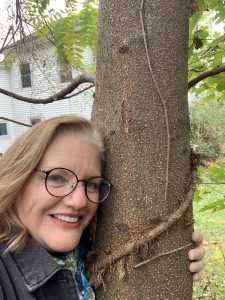 Julie JordanScott is a multipassionate creative who delights in inviting others into their own fullhearted, artistic experience via her creativity coaching individually or in groups, courses and workshops. To receive inspiring content and videos weekly and find out more about Coaching, Courses, Challenges and what's going on in the Creative Life Midwife world? Subscribe here:
Follow on Instagram to Watch IGTV exclusive videos, stories and posts about writing and the creative process.
Let our Words Flow Writing Community: the only one missing is you! Join us in the Private Writing Group by clicking here.