Are you stumped to find a way to express yourself creatively?
Today in this post and in the video above, we will talk about easy ways, such simple ways to get into the creative flow.
We all get stumped and stuck with stuff from time to time. We get so busy living our lives that we never seem to have any leftover – any down time where we are able to finally get to that task of starting a blog or having our own podcast or making that video.
That's why it is so important to honor your call to be creative – even when feel like you are too busy to do so.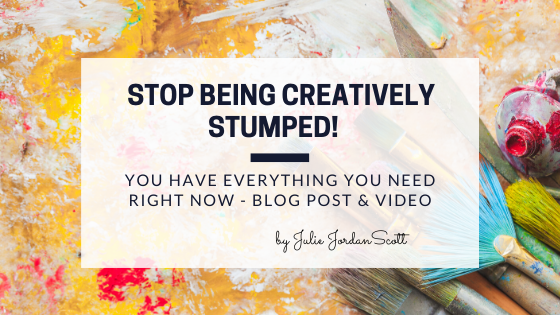 Learn how to create in small chunks of time.
I have been writing and publishing content since my children were babies. I would write everywhere. In hot Bakersfield summers we would go to the Fast Food places not for the food, but for the indoor playland. I would buy one soda, a milk and some French fries and my kids were happy AND COOL and I would scribble articles and outlines on the back of the tray liner.
I would carry a small notebook in my purse, though now I often use my phone for this same purpose. One of my tactics is to listen to other people's conversations and write them down, verbatim, so I learn how people actually talk so that when I wrote dialogue, it sounds like people talking not like a writer writing like she thinks people talk.
Do you get that distinction?
On to our next easy tip to find your way back to your creativity.
2.Learn how to create in small chunks of time..
For you writers: You may believe you must do your writing in one specific place. The truth is, that is a block you have created for yourself – another way to measure up to an ideal.
Waiting for your child to get out of their gymnastics lessons, sitting in any waiting room, riding on the train from station to station – pull out your phone on the notes section and put your thoughts down. Use where you are to stir those creative juices.
You may find you get so creative "out and about" that this will become a NEW ideal – but the most valuable thing you can do is train yourself to be right and be able to create – wherever you are.
Letting go of perfectionism will help you let go of doing it in any one specific way and instead, do it where and how and whenever you find yourself.
3. Find a creative accountability buddy either short term or long term.
This is a person you will reach out to and say something like, "Hey, I am about to start my art-journaling (or writing or video making or blogging or painting or whatever it is.) and I will check in with you when I am done."
This helps in an infinite number of ways. You will be heard, you will be encouraged and you will get more done.
How to find such a person? Seek assistance in the communities you are already a part of, for example a facebook group.
How to find your buddy?
Ask around the communities you are in right now – perhaps you are in a facebook group.
You may make your ask like this:
"Who else is struggling creatively? I would love to have an accountability buddy to check in with today."
I know, this feels very vulnerable. That's the thing – creativity itself is vulnerable. The better we get at being vulnerable, the better we will be as creatives. The two go hand in hand, heart to heart, soul to soul. How exciting that you will finally make what you have wanted to make and be who you have always wanted to be.
Are you ready to commit to passionate action now?
What are you going to commit to TODAY to make your creative life take shape?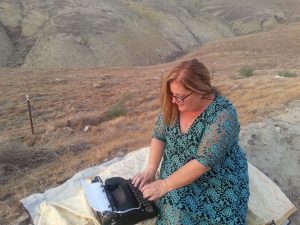 Julie JordanScott is the Creative Life Midwife. A writer, speaker, life coach and multi-creative who "walks her talk" she provides the world fuel for creativity, intentional connection and purposeful passion in order to eradicate loneliness and the symptoms of anxiety and depression.