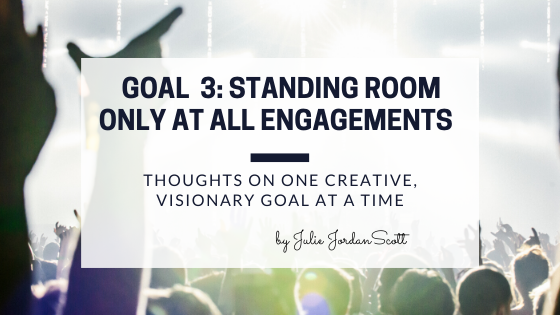 My ten-year-vision is a living, breathing, ever-present experience every day of my life. I have 10 specific vision-goals I write in my journal or notebook daily. At least three days a week I am writing more on each of the vision goals to deepen and enrich the future and now experience.
Here is the Vision/Goal:
There is standing-room-only at my public appearances.
I am blessed to report I know what it is like to have standing room only crowds at my public appearances and it is less than a month since I started working this ten-year-vision-plan.
I have had standing room only audiences at poetry performances and sell-out crowds in theater productions I've been in.
If you have a goal where you have no prior experience, one way to catch a view-experience for it is to attend an event where it is expected to be standing-room-only or may be close to sold out when you purchase tickets. When you are there, imagine yourself on stage instead of in the audience.
Allow the buzz from the crowd to fill you. Record their responses with your phone and refer back to your recordings. Write about the actual experience and then write/envision/visualize yourself in place of whoever is speaking or performing.
I have not had standing room only in places where I have had speaking engagements, book signings or in webinars I have hosted.
For the first time in a long time, I feel excited as I note where I have yet to be successful.
A-ha! The daily review of the ten-year-vision-plan is sinking into my bloodstream. It is powerful because I can remember the energy of the standing=room-only crowds. I can feel into my memory to recall how energizing it was to accept applause and attentive response from the standing ovation, sold-out show crowds.
Next is what action to take – what goals with measureable results may I bring into place in order to make this vision a reality.
I have been working on my email list. I was on a live chat that got disconnected on Wednesday and on Thursday I joined an email list that does exactly what I want mine to do. This is an example of the energy following the vision. On Wednesday I would not have been able to clearly communicate what I want to customer service. Now, I can communicate clearly by sharing the images I've gathered. The more people on my list, the more I may expand and attract audiences. This is exciting!
While this may sound odd, I ordered a new Tri-Pod selfie stick to use in making videos. One of the weaknesses of my old selfie stick was It was perpectually sliding down while I was recording. This new one has a device with a solid clip at various height levels to keep everything stationary. This one change immediately makes me more excited to get back into making videos. Videos build connections. Connections build audiences.
I bought a new domain name that is addressing "my heart's why" why a-la Simon Sinek and "Start with Why." My programs, classes and even this article do that, but this new domain carries the name in a perfectly clear sense. (I will share it once it is built which will be soon!)
I am excited to get the site up and running with a welcome video and yes, an email list attached. Because the website is the most direct connection between my why and my message, I can see my audience growing exponentially which leads to – bigger crowds wherever I go.
I have to say these final words to connect back to my past, my present and my future vision: at my second book signing ever, a man came to me with shaking hands and asked me to sign his copy of "Chicken Soup for the Soul of America." He had been a longtime fan of mine and so believed in my message and my voice that he thought all my books would be sold out when I was there and I would be mobbed by people who would be shaking, like he was.
This man has no idea how inspiring he continues to be for me.
No one from my extended family showed up – and that hurt me – but Paul did, even as nervous as he was to meet me. I didn't even realize people might be excited to meet me.
My final confession for today is this: I was definitely NOT feeling it as I sat down to write this afternoon. I'm in a mid-afternoon slump. I tucked my naysayer mind off and started to type.
I chose to move forward, with love, and my hope and intention you will as well.
The more you connect with your vision, the more purposeful you will feel and the more passionate action you will be driven to take.
Have you started working on your ten-year-vision yet?
If you haven't, what is stopping you? If you aren't comfortable commenting, drop me an email at juliejordanscott at gmail dot com. Let's have an honest conversation about how your why and what you are up too in this world is too important for you to ignore for a moment longer.