We will store this in the file drawer marked "What people don't talk about much" – perhaps this is a series that is calling to be written.
Sometimes self-care, for me, is dogged productivity. Diving my nose into a project intensely and slogging through it feels better than almost anything I can imagine. It creates a deeper, more resonant satisfaction than almost any of the traditional "self-care" suggestions offered by many of my beloved friends.
I am ashamed of admitting this, I almost don't want to say it for fear of being cast out of any remotely inner circle I might be a part of because if 2018 had a theme other than the one I set it is "We don't want you" and "You don't belong here."
In actuality, my theme for 2018 was/is freedom and allowing myself to be cast out is actually freeing. I just need to move further along the grief path so I don't ache with each interaction with people I used to call my friends.
There are people waiting to love you, and me, and those people who have hurt you and me. There are people waiting to be loved, fully, and who would be so thrilled to be invited for a cup of coffee or a walk or a conversation deeper than what is currently the latest celebrity sensation or the unfortunate state of (insert a myriad of subjects here,)
We are all bigger – our hearts and our visions for this world – than whatever bump in the road you are currently knocking up against.
This has been a stream-of-consciousness moment on a Sunday evening. I will get back to my trademark Sunday Loving Activities and offer to you this chance to think about whatever it is you aren't talking about openly that might help you to feel better by giving it some attention.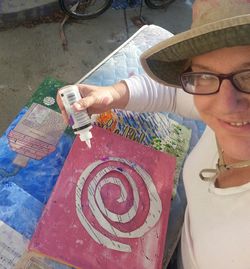 Julie Jordan Scott says: This is what I crave for you: soulful creativity, aliveness in your passionate productivity, and a deeper sense of knowing how you belong in the world so that together we will be able to create a context for the rest of your life via your next book or your next workshop or simply your next day, week, month or year.
The people who named me "Creative Life Midwife" found words and paint and laughter and flexed their courage muscles on the way to a deeper satisfaction in their daily lives via new blogs, books, webinars and friendships – just to name a few. Contact me now for your complimentary Transformational coaching conversation.  Click here to complete the request form now.