This is how we heal: one conversation at a time.
I have to confess, I felt pretty frustrated yesterday by a comment someone made and I don't even want to talk about the comment don't even want to talk about the context for fear of someone recognizing herself in my words and leap to conclusions about what I am thinking/feeling/choosing when I'm sorry, beloved-perhaps, you can't know how I am thinking/feeling/choosing because we haven't had a conversation on the topic lately.
One thing I will confess, though, was when I took an African Culture class my senior year at University of the Pacific. I was hungry for course work focused on Africa because as an International Relations major, I had fallen in love with the study of Africa.
I was an Anglo woman who had (and still hasn't) visited Africa – and this class was offered under the Black Studies department. I was the only non person of color in the class and in fact, if we had said "person of color" it would have been seen as a racial insult.
One particularly tiring afternoon I said, "You know, I love you all and sometimes I feel like I have to spend every class period here apologizing for my ethnicity."
In that moment my professor nearly jumped out of his feet with excitement.
"That's it! Exactly! That's the feeling!"
I wish I had a photo of my pale face scrunched up with my twenty-one-year-old confused blue eyes looking at him in a perpetual question mark to remind myself not getting it and not having "the" answer is a part of the beloved process.
I started to get it then and now I'm getting it more and more.
I loved that class. I loved my classmate who had transferred from a college from Chicago who said, "I hope someday I know as much as you do about Africa." And my other friend, sophomore year in my Politics of Africa class who admitted to reading my ten-page single-spaced term paper on Ivory Coast (now known as Côte d'Ivoire) twice because she enjoyed it so much.
I love being an Africanist. I love engaging with my African friends and I love knowing where the African grocery store is in Bakersfield and I love engaging my curiosity and not accepting what people tell me vaguely as truth.
This took longer than five minutes. It took closer to seven.
And I still have so much more to say.
Which I see as a sign of a really good thing.
_ _ _
A few last words: Walt Whitman from Leaves of Grass.
Listener up there! what have you to confide to me?
Look in my face while I snuff the sidle of evening,
(Talk honestly, no one else hears you, and I stay only a minute 

longer.) 
Do I contradict myself?
Very well then I contradict myself,
(I am large, I contain multitudes.)
I concentrate toward them that are nigh, I wait on the door-slab.
Who has done his day's work? who will soonest be through with 

his supper? 
Who wishes to walk with me?
Will you speak before I am gone? will you prove already too late?

– – – –
Now – your response would be adored.
If you take time to write for 5 minutes to it,  I may dance with joy – especially if you post a link:
"This is how we heal: one ______  at a time."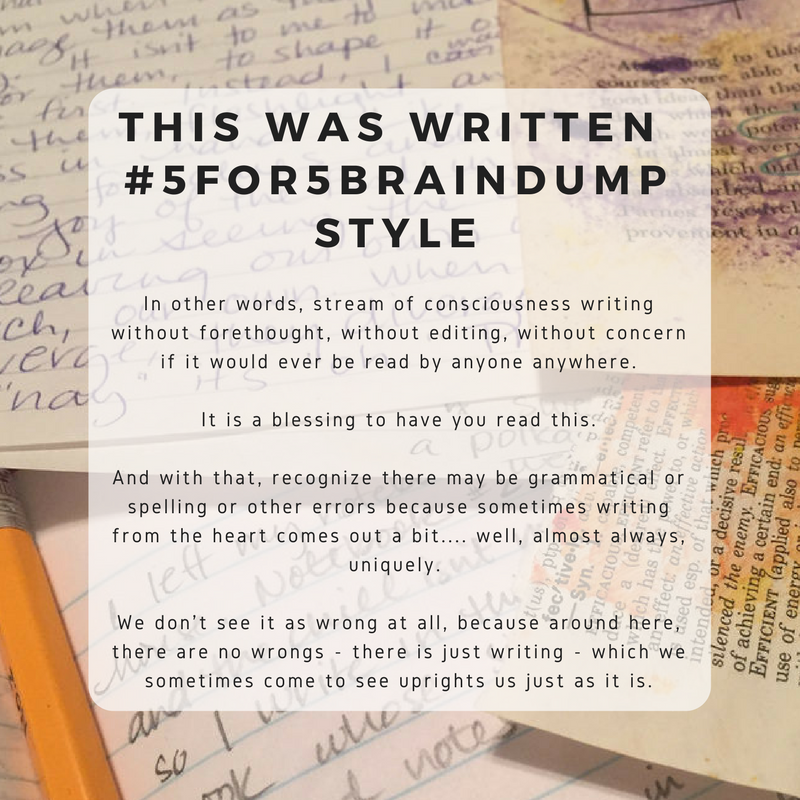 Julie Jordan Scott inspires people to experience artistic rebirth via her programs, playshops, books, performances and simply being herself out in the world.  She is a writer, creative life coach, speaker, performance poet, Mommy-extraordinaire and mixed-media artist  whose Writing Camps and Writing Playgrounds permanently transform people's creative lives. Watch for the announcement of new programs coming in soon!
To contact Julie to schedule a Writing or Creative Life Coaching Session, call or text her at 661.444.2735.
Check out the links below to follow her on a bunch of different social media channels, especially if you find the idea of a Word-Love Party bus particularly enticing.