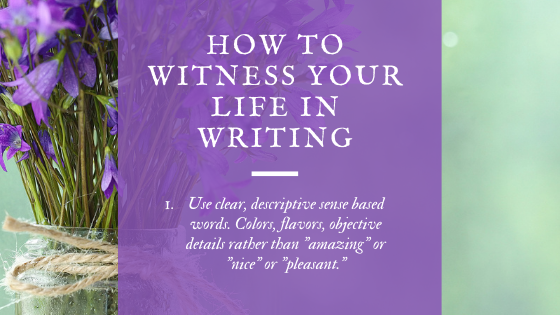 We write for many reasons. No matter what your reason is – or whatever form of content you plan to create – the best way to get to the heart of your message is to begin writing in a free-flow, meditative or stream of consciousness style.
Use Meditative Writing to Discover What You Think, Know and Understand
When I write either a first draft or a bit of timed meditative writing, what I discover often surprises me. It is like what novelist Flannery O'Connor said, ""I write because I don't know what I think until I read what I say." If you want to write a blog post or a video script or a sales page, the same skill set works. The same practices work. Today, we are focusing on witnessing your life via the senses – clearly and simply.
How to start writing from the senses
Instead of writing "It looks good" or "I think it is pretty" look carefully at the subject of your writing either in your minds eye or physically. From this experience, write something like this:
"The bright purple irises fill the glass vase with the twine tied in a bow."
"There was a hint of vanilla in the chocolate chip cookies" or
"He was over six feet tall, which made my five foot four inch frame feel tiny."
Yes, there is some opinion in that final sentence, but do you see how it is supported in fact?
PRACTICE: What would you write about this picture? Colors? Textures? (from items like this you have in your home)? What sounds do books make?
Feel free to share in the comments and we can dialogue there or send me a message to practice more.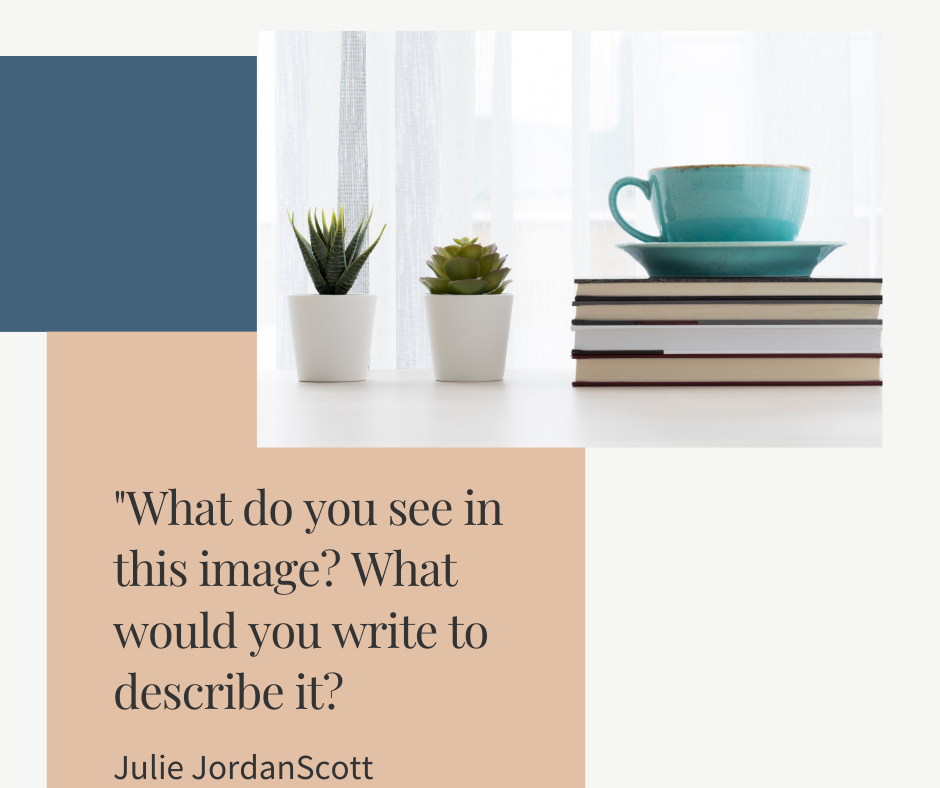 Write with sensory details- write from what is specific and concrete.
Be with what sensory – be with specific and concrete details.
Once you hold the sensory experience – what you see, hear, touch, smell, feel – then you may delve into the sixth sense – what your intuition tells you and eventually what meaning you make from life experience and witnessing your life experience.
PRACTICE: USE THE PHOTO PROMPT ABOVE AND CONNECT THE DESCRIPTION WITH AN EXPERIENCE FROM YOUR LIFE. YOU MIGHT WRITE ABOUT THE LAST TIME YOU SHARED A CUP OF COFFEE OR TEA WITH A FRIEND OR A BOOK CLUB EXPERIENCE OR YOUR FRIEND WHO ENJOYS AND COLLECTS SUCCULENTS.
Throughout this week, we will be sharing strategies to help you write more freely using techniques that will help you write better – whatever genre you have chosen to write within. Come back to discover more about how to improve your writing!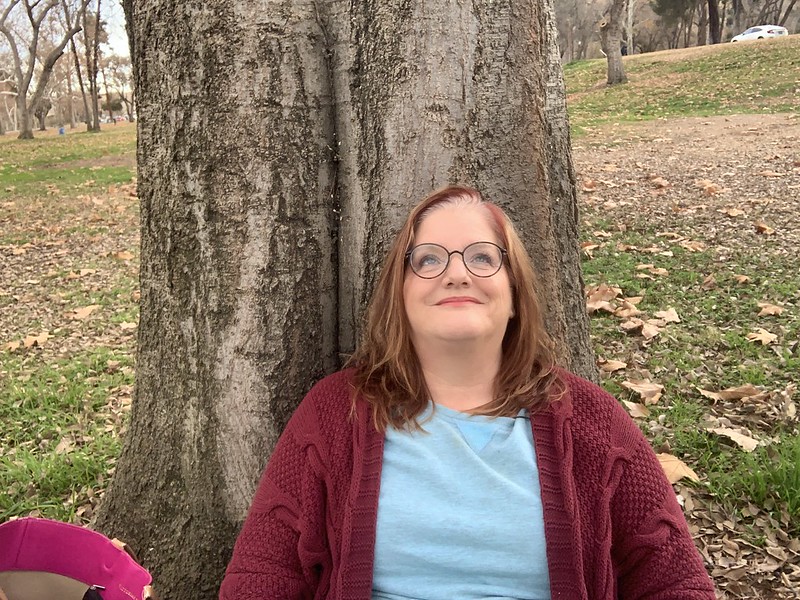 Julie JordanScott has been writing since before she was literate by dictating her thoughts to her mother and then copying in thick crayons onto construction paper. She was a pioneer in epublishing and continues to reach readers through her blog, bestselling books, greeting cards and her essays and poems in anthologies. Join her for one of her upcoming #5for5BrainDump programs or an upcoming writing circle or writing for social media programs.