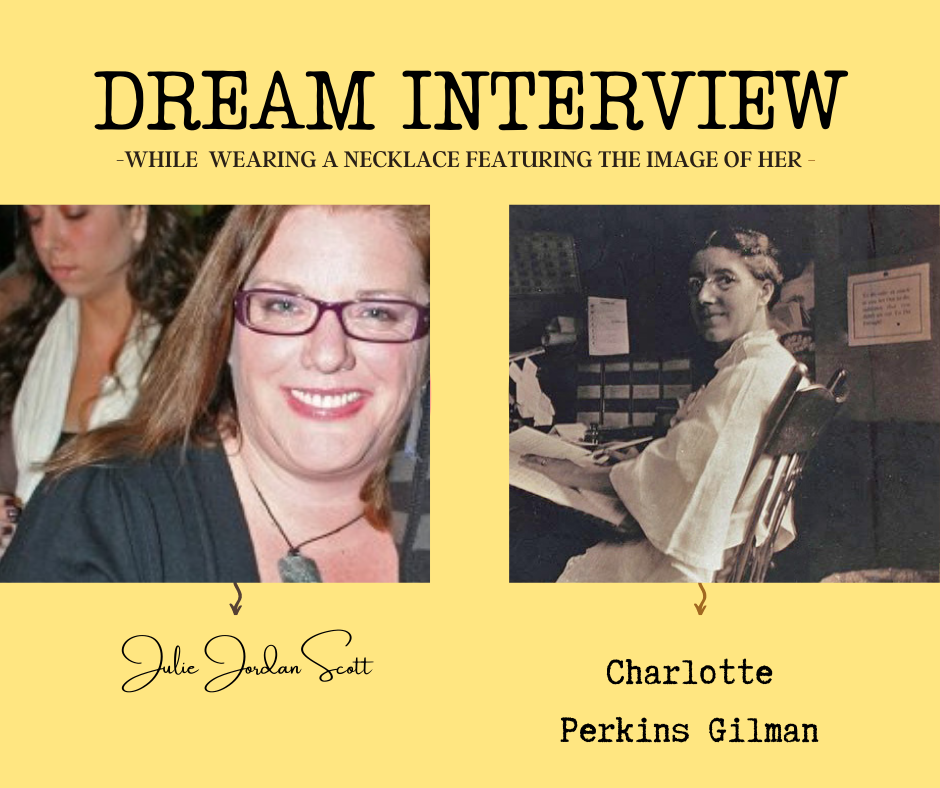 Prepare yourself for some literary fan-girl action. Literally, some serious, a bit over the top historical literary granny fan girl action.
One of my social writers challenges on instagram asked us what writer we would most like to interview and the #mystylephotochallenge had the theme of necklaces. Only someone who loves women's history and women reformers of the past would be so excited to share as specifically as I did.
I was giddy to share I would most like to interview (if she was living) Charlotte Perkins Gilman, writer, reformer, speaker, drama-loving, mother, well connected and one-of-a-kind whose image I also saved perpetually within a series of necklaces I made honoring literary grannies. 
What and who are "Literary Grannies"?
If you don't know what literary grannies are, they are women in literary history often the less famous women and often without children of their own. Their lineage is their work. An example of a famous literary granny who fits this quality is Louisa May Alcott. Charlotte, however – my favorite Literary Granny – did have a daughter named Katharine. It was through her postpartum depression experience that her most famous work was written.
Charlotte's novella "The Yellow Wallpaper" inspired a visual art body of work I created several years ago that culminated in seeking out and visiting the home where she died in Pasadena, California.  This is the same town where she wrote her most famous work in two days during a heat wave in the summer of 1888. Pasadena is also the town where both my father and two of my brothers were born.
Being a Literary Granny Fan Girl isn't eccentric at all! (?)
I have gone on fan-girl travels to significant Charlotte Perkins Gilman locations outside of Pasadena into Oakland and San Francisco and yes, I visited the home of her relative, Harriet Beecher Stowe in Hartford, Connecticut, where Charlotte herself was born. I even made a trip to Berkeley, California, for a staging of a brilliant play based on "The Yellow Wallpaper."
We both have daughters named Katherine (though her daughter's name is spelled "Katharine") and as noted, we both have ties to Pasadena.
I warned you, there would be fan-girling!
If you are curious about the necklaces, among others I made featured Jane Austen, Zelda Fitzgerald and Adelaide Crapsey – a woman you probably never heard of until now who invented the short form of poetry called cinquain.
Literary Granny Visual Art and Jewelry
Charlotte often wore blouses with ornate lace embellishment. I couldn't find a photo of her wearing jewelry but there were plentiful photos of lace – almost – necklace -like adornment.
What writer would you most like to interview?
Have you ever made necklaces or other types of jewelry?
PS: The inside story for Bloggers & Other Content Creators
By the way, for the bloggers who are reading this blog post, I have now repurposed this original instagram post (with minor edits) in several different places.
It is a way to expand your reach and reach more people who share your passion. Beside that, it is simply fun!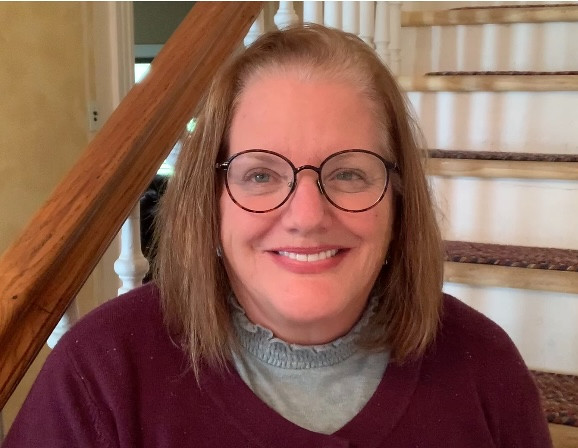 Julie JordanScott is a multipassionate creative who delights in inviting others into their own fullhearted, artistic experience via her creativity coaching individually or in groups, courses and workshops. To receive inspiring content and videos weekly and find out more about Coaching, Courses, Challenges and what's going on in the Creative Life Midwife world? Subscribe here:
Follow on Instagram to Watch IGTV exclusive videos, stories and posts about writing and the creative process.
Let our Words Flow Writing Community: the only one missing is you! Join us in the Private Writing Group by clicking here.