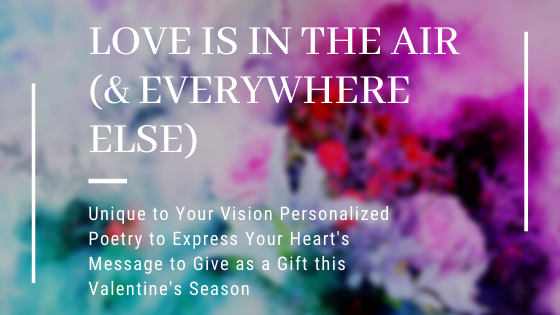 How would it feel to be bathed in love, attention and admiration right in time for Valentine's Day?
What would it like to honor the love you share with others in a way that is unique and may be treasured for years or generations in the future?
Last year I didn't receive Valentine's gifts from sweethearts or loved ones, but I did witness more love that was infinitely more enriching than I could have imagined.
Here's what happened:
On Valentine's Day I sat behind a typewriter at House of Flowers here in my home town of Bakersfield. All day long I talked to people about love – and from what they shared with me, I wrote a personalized, one-of-a-kind soulful poem that reflected and connected their experience into words which they could then give to their special person as a memorable, frame-able Valentine's Day Gift.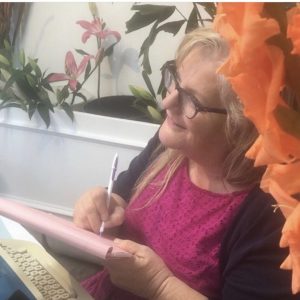 I wrote poems for spouses who had been happily married for decades, I wrote poems for the new couples, I wrote poems for a soon-to-be-born baby and I wrote at least one Galentine's Poem.
I wrote a poem "from the Universe" to a woman who is single and praying for a partner.
How it works:
You will be given a set of curated questions you when you request a poem for your loved one: your partner or yourself or you wife or your bestie or your child or your ex-husband or your grandmother. Your poem may be written for anyone.
I listen, carefully, and follow my intuition to sometimes journey along a thread within the conversation to get a clear image for the poem. Last year one woman started to cry happy tears during our conversation, saying "Just talking about how much I love him is amazing – and I get a poem to give to him, too?"
"Yes," I told her, "You get a poem to give to your husband, too."
Yes: to you, reading this right now, you may get a poem written for your loved one, too.
Because of the lives that were touched by last year's project and this year's in person Love Poem project, I have decided to do a virtual personalized poetry pop-up shop so people all over the world may have their love commemorated in an absolutely unique, one of a kind Valentine's (or any time) poem.
Here is how your virtual experience works:
You will receive a list of questions via email to answer before we meet on Zoom, an online meeting platform for a virtual 15 minute Pre-Poetry Writing Collaboration Session.
When we meet on Zoom, we will have a conversation in which I will ask you to follow up on your questions to be sure I have details right. I will also be going more deeply with your questions, again looking for colorful details that will make your Valentine's Poem completely unique and memorable.
15 minutes after our session, your poem will be ready to be mailed/emailed/photographed for you.
You may choose a handwritten (cursive) poem; a printed poem or a typewritten poem.
The zoom sessions will be recorded for you to watch and share with your loved one later if they would enjoy seeing the process and hearing all the love you showered them with to me in order to write the poem.
As always, if you have any questions you may call or text me at 661.444.2735 or send me an email at juliejs@creativelifemidwife.com
I am overflowing with love – and look forward to sharing this holiday in this uniquely, inspiring way.
After you purchase your personalized love poem using the paypal link below, I will respond by email with the questions to answer and a link to sign up for an appointment time for our Zoom Session.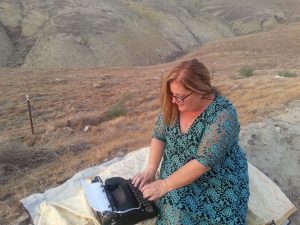 Julie JordanScott is a multi-creative who lives in Bakersfield with her daughter, Emma, in an eighty-year-old house with two palm trees in her yard. She loves writing and reading poetry, sitting by the Kern River and learning new quirky facts about literary grannies and what makes people tick. Her current project is finding ways to end the secret epidemic facing the US – with 60% of Americans affected by it. This love poetry project is another way she is working to eradicate loneliness – more information may be found on how you may be involved in the cause at EradicateLoneliness.com