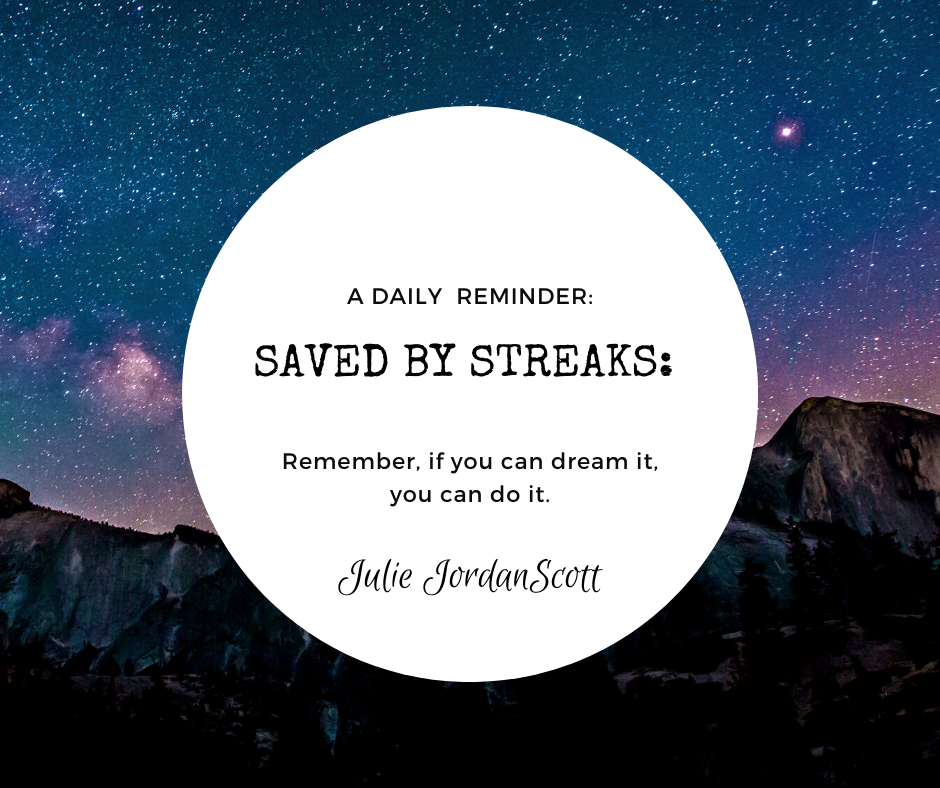 "I always forget how important the empty days are, how important it may be sometimes not to expect to produce anything, even a few lines in a journal."
May Sarton
There was a time when I would agree wholeheartedly with May Sarton's assertion – until I became a person who has been saved by streaks: creating something for consecutive days.
Are Streaks Crutches I Use, To Get Through a Tough Time?
Maybe in the future, I won't feel compelled by the "crutch" of streaks, but right now in my current situation, streaks sustain me as much as air and water and friends who laugh with me not at me.
I sit with my fingers hovering above the keyboard wondering what to write next, wondering how vulnerable to allow myself to be.
I think of the power of writing for five minutes, free flow style, to allow the words to bring me wisdom rather than me attempting to point myself toward wisdom and bend the words to fit into the directions I am willing them into that particular shape.
So I am choosing to craft a prompt and check in and see what the words want to tell me.
Free Flow Writing Creates a Bridge Between Negative Associations and Truth
With the timer set for five minutes, I write:
The empty days are my friends, long and lean and not holding expectations beyond breath and light and opening my eyes to gaze about, without measure, without need simply because it feels good.
Empty days say "What would you most like to do today?"
Empty days say "Which clothes would feel the best today?"

Empty days say, "The only rules you must follow are the rules that bring you happiness and joy."
So, Madame Empty Day (my pencil writes) if joy is permitted than I am also allowed to fill this day with – a jot or a line or a walk along the river to the place where there is graffiti under the bridge? It is ok for me to sit and listen and take photos and reach out to my friends to let them know I am connecting to them, even tat this difference, is that ok?
Empty days allow me to make choices, not be barred by rule-tenders.
Naturally, your higher self may ask you to consider deepening your query.
"Like I've been doing today?" I pause to ask Madame Empty Day, "Like I've been discerning if my choice was less than or my occasionally Anti-Karen-Karen-ness is a story that might not be completely empowering?"
She nodded and smiled, showing I was getting somewhere and moving beyond the first meanings I was making from the initial assessment alone.
That feels good. That feels right. That feels at peace.
I now know the battle is more likely between what I have made a streak mean (a job well done, consistently, is a help-mate and a partner in creativity) versus what if I fail? I can't do this. This expectation is too high and I am bound to fall flat on my face and that would be another tale for another blogpost.
The Final Word on to Streak or Not to Streak is….
We make our own rules in the end. We are subject and sovereign, ruler and the one who is ruled. Consistency creates strength.
Choosing not to be consistent creates choosing not to be consistent. It isn't bad on its own. For me, consistency also consistently leads to better.
When I am consistently facing in the direction of courageous action rather than fearful stagnant in action, things turn in the direction of courage and everything that goes with courage.
=====
Julie Jordan Scott is the Creator of the Radical Joy of Consistency Course which helps people practice consistency and completion daily in order to experience a more incredible life experience. She came to this conclusion after almost dying and coming back to true healing by writing 377 consecutive haiku… and a lot more along her way to building that streak! To find out more about this program, visit this link, here.