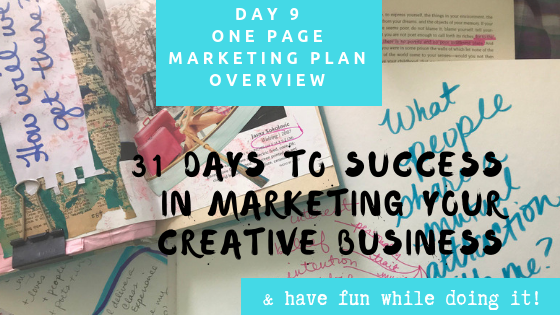 Yes: we will be creating a one page marketing plan made up of 9  blocks. Each block will contain information about a specific aspect of marketing.
The image  that resonates for me is  "Quilt Squares" because I love storytelling quilts and yes,  both quilting and storytelling are feminine art forms.  Marketing for Creatives seems like a perfect fit with this as the framework.
This distinctive one page marketing plan will be called something like "Marketing Story Quilt " because that feels so much better than "One Page Marketing Plan" which may be the eventual subtitle.
This is how the creative process works for me and perhaps for you, too.
We creatives don't often go down a straight linear path with our business building and marketing. This is why it is so much easier for us to sit down with a piece of watercolor paper folded into nine rectangles then it is to copy a print out with 9 blocks of straight lines all in a row.

We would rather  paint or write on water color paper or  doodle on and perhaps eventually collage on and who knows what else we do before we come to some semblance of "oh, yeah – these ideas and this combination feels right".
We don't just make a list and call it done,  we feel better when we  make our marketing plan as unique as we are, like a big party or ritual or celebration.
Now that we recognize a marketing plan/storytelling quilt is a dynamic work-in-progress, stay with me as I tell you the 9 themes are will be sharing during the next two weeks, intermittently with the other content of this 31 Days of Marketing Success for Creatives:
Who are your people? (Target Market, Ideal Client, Reader, Tribe, Community

2.   Core Marketing Message & Ongoing Marketing Conversations
3.  What Methods Will I Use to Convey My Messages & Have Conversations?
4.  How will I document my messages, conversations and key connections?
5. What will I do to further our relationship?
6.  Methods for the exchange be made from "friendly" to "trusted customer/client"
7. What are my people's most desired experience & how shall I deliver this?
8.   Collaborative Partnership and Ongoing Relationship Development
9. Perfecting the "Who Do You Know Who?" Throughout the Process
If you missed our other blog posts, here is a listing for you. Before you leave, please take a moment to follow me on social media (links are above) and take advantage of the free resources I'm offering as we go along on this particular adventure.
Day 1: Have Fun While Marketing? 
Day 2: The Seeds of Your Marketing Success
Day 3: One Step at a Time
Day 4: The Most Important Question
Day 5: Beginner's Mind
Day 8: Storytelling and Marketing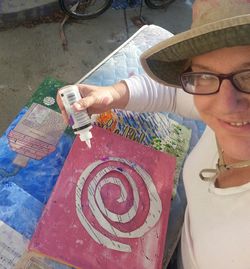 Julie Jordan Scott says: This is what I crave for you: soulful creativity, aliveness in your passionate productivity, and a deeper sense of knowing how you belong in the world so that together we will be able to create a context for the rest of your life via your next book or your next workshop or simply your next day, week, month or year.
The people who named me "Creative Life Midwife" found words and paint and laughter and flexed their courage muscles on the way to a deeper satisfaction in their daily lives via new blogs, books, webinars and friendships – just to name a few. Contact me now for your complimentary Transformational coaching conversation.  Click here to complete the request form now.