Day 8 – For the next phase – throughout this week – we are going to focus on two parallel pieces of Marketing Your Creative Business (and having a great time doing it.)
How does a single sheet, one page marketing plan AND a simple format for telling your business/product story sound to you?
I get excited at the thoght! 

Some of may feel uncomfortable when you hear me say "writing and visual storytelling" and others of you will feel a sense of anticipation because it sounds so cool!
Here is what I am going to do for you –  for all of us. We are going to start with a big picture and then every day, deconstruct it and rebuild it alongside you.
Please trust me with this – because I believe so strongly in making this fun!
This is a simple, succinct, easy to master form of business storytelling.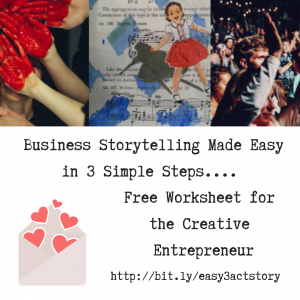 I  even created a simple worksheet for you to use as you create your simplest story. When you finish reading and watching the video, there is a link to download the free worksheet. 
At first it may not look like a marketing strategy and if you bear with me for these next few moments and simultaneously open your mind I guarantee you will get it.
In its original form (though it was in Latin when Julius Caesar made it famous: I came. I saw. I conquered.
 "Veni. Vidi. Vici."
For a realtor, her simple story might be: "I list. I show. I sell."
For a crochet artist: "I choose the funkiest yarn. I crochet with great love. After purchasing (and becoming a collector) will now have a smile every time you enter your (bedroom, den, office)."
For a writer: "I plan. I write. I complete with great joy!" (and for the end user or reader: "I open the book, I complete with great joy, my life is changed positively forever!"
For a hairstylist: "I mix and weave vibrant color combinations. You experience relaxing self-care. You leave my salon gorgeous and ready to celebrate yourself."
See how simple this is?
Instantly you have a marketing story you may tell over and over and over with a variety of different sequences.
The template is the same.
In the beginning. There was then intentional action. Incredible results (emotional, feeling, measurable, experiential) follow naturally and with ease.
"Veni. Vidi. Vici."
Keep your eye open for this in advertising, in movies, in sitcoms and videos, and in greeting cards.
Before. During Action/Process. Results!
Now: Sign up to receive your easy worksheet. You too will be telling your story and marketing your creative business with glee when you do!
Tomorrow we will introduce the One Page Marketing Plan – and will continue with storytelling practice on alternating days.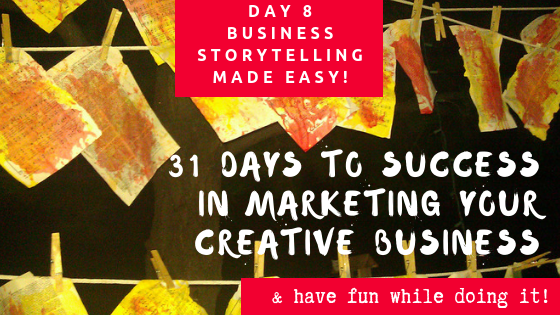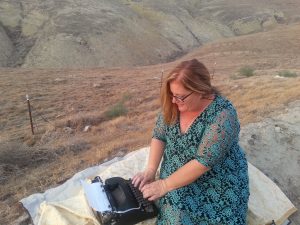 Julie JordanScott is a CreativeLife Coach and multi-creative known for her high energy, inspirational and simple to apply methods for writers and artists to bring more success into their small businesses and creative projects. To request your free transformational creative life coaching session, please make your request here now.