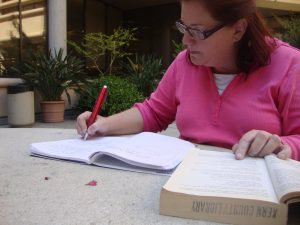 I originally wrote this more than six months ago. I thought I had published it but apparently I didn't AND I didn't follow through so… now  is the time.
In two-and-a-half weeks I am returning to where my memory of my life narrative began, so I will be consciously prepping for that journey here: out in the open.
My inner-seventh-grader says "ewww. I am an embarrassment."
What I'm taking on is risky. I keep thinking, "Normal people wouldn't do this. This is a private thing, possibly embarrassing and ugly."
Maybe it is because it is risky and has a high possibility of getting ugly that I am doing it.
I have given myself an assignment: to rewrite the narrative that has held me back from expressing my unique gifts and talents so that others may benefit and experienced transformed lives as a result.
I will be writing my way through these experiences using the #5for5BrainDump method for the next few weeks. This morning via text the idea started taking form.
The other night I had a rather distressing moment with one of my daughters and words were said and other words were not said and I could have fallen into a deep muddy mess of well-worn recordings of all my short comings.
Instead I wrote,
"Yes, I am ashamed of my behavior. I said things without thinking and no, I am not proud."
I took several breaths before I wrote, "I am a mother who makes mistakes some of the time. I am a mother who most of the time does the best she can for her children. I am usually quite conscious with my words and actions and only want the best for not only my children but all children. I fall short from time-to-time.
"I wish I had never said those hurtful words. Unfortunately they were spoken, they were received, and they will be remembered with more electrical charge than more quiet, soft moments of every day love and guidance.
"Today, I am choosing to remember moments of love and focus on creating more of them."
Later in the night after our argument, I walked into my daughters room and put my hand on her back to feel her breathing. It is a ritual I've lived through with each of my children – each of my children who lived.
Today I am choosing to remember moments of love and focus on creating more of them.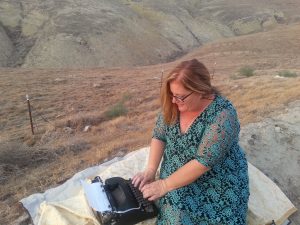 Julie Jordan Scott inspires people to experience artistic rebirth via her programs, playshops, books, performances and simply being herself out in the world.  She is a writer, creative life coach, speaker, performance poet, Mommy-extraordinaire and  mixed-media artist whose Writing Camps and Writing Playgrounds permanently transform people's creative lives. Watch for the announcement of new programs coming in soon!
To contact Julie to schedule a Writing or Creative Life Coaching Session or to request she speak at your next event, call or text her at 661.444.2735.