Is this action moving me toward my goal?
This is the question that is guiding my "in the moment, going to get this stuff done" reprisal Passion Activator Friday, a regular activity I used to do when my website and personal development business was humming along in a pleasantly sustainable way.
Is this action moving me toward my goal?
Not someone else's goal, vision or dream but MINE.
In December I created a wheel of life which broke down my overall life vision into 8 categories. I continue to review those and when I ask the question, I can easily scan my categories and see how that action fits in such as:
Is this action making me healthier?
Is this action engaging me in creating more abundant financial sustainability?
Is this action helping make my family stronger?
There are 5 other categories I can quickly scan and see if it fits or not. Today, if it doesn't fit, it is off my list. If there is any hesitation it is off my "now" list and onto "later if I have extra time" list.
With that, I will move to my next thing, which is taking a water-and-walkabout intensive time and prepping for about 30 minutes of intense marketing focus work.
Are these actions moving me toward my goal?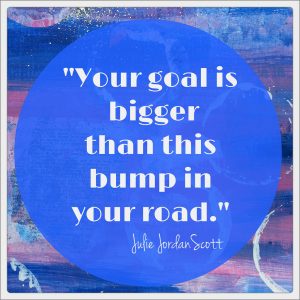 Why yes, beloveds, these actions are! What about you?
Tell me how your next actions are moving you towards your goals. If your current actions and plans are NOT empowering you to reach YOUR goals and dreams, please let me know because I've been where you are and I have tools to help. After all, this was written because I noticed for a couple days I was other-centered constantly instead of my dreams and goals centered.
In a moment, that changed by asking the simple question and found support for my continued process.
Let's support you now, too.
Is your next action going to move you toward your goal?
Julie Jordan Scott inspires people to experience artistic rebirth via her programs, playshops, books,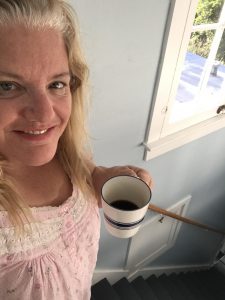 performances and simply being herself out in the world.  She is a writer, creative life coach, speaker, performance poet, Mommy-extraordinaire and mixed media artist whose Writing Camps and Writing Playgrounds permanently transform people's creative lives. Watch for the announcement of new programs coming soon!
Contact Julie now to schedule a Writing or Transformational Conversation Session at 661.444.2735. Please note she is in California in the USA in the Pacific Time Zone.