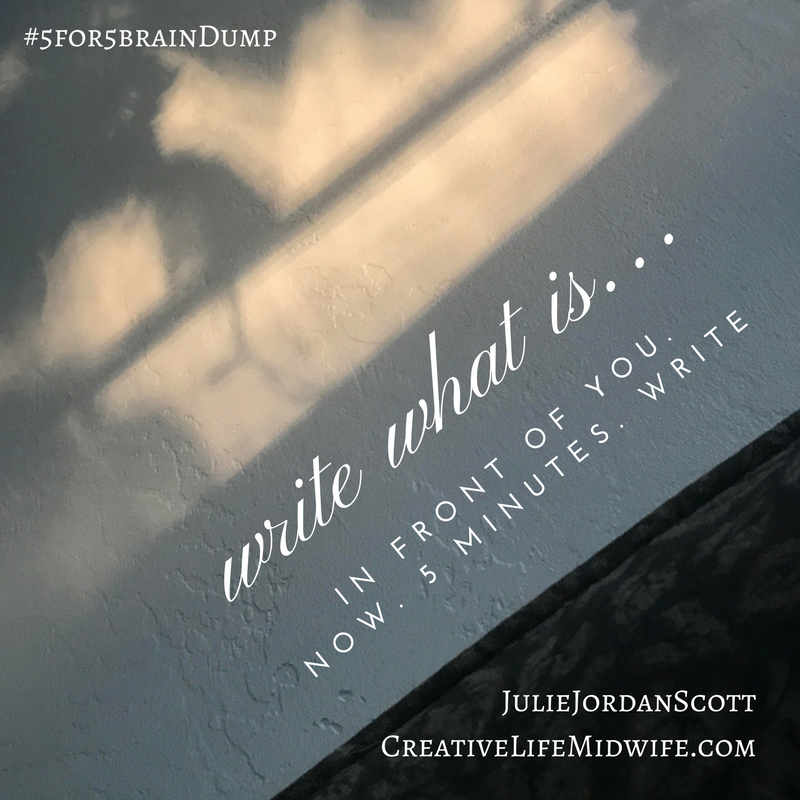 I didn't think about it, I just did it. I took the moment to take a breath and look at it. Look at what was there. And I wrote. I wrote of a picture of nothing and I found so much more than I knew was there.
The short, sweet paragraph above is the Pollyanna version. The rampant negative self-talk edition goes like this:
"What the hell are you doing? When will you stop steeping yourself in self importance and realize no one cares? Do you hear me? No one cares. No one thinks like you do nor would they ever want to. Who takes pictures of shadows on the wall and brags about it? You aren't looking at a scene of a Hawaaian beach with your perfect middle aged body (HA! AS IF!) and your stock photo kids going to important schools doing volunteer work with the homeless while voluntarily working at non profits for a pittance because you have more money than you know what to do with? That's what people want to see. Not shadows on the wall that have no meaning dumbshit idiot."
Gee. That makes me want to write more.
The thing is: when we push through that globby mess that comes on either side of the truth and continue moving forward in the space of what is – anyway, however wherever whatever, our words will find our way no matter what sort of writing you are doing.
You can take your brain dump about the shadows on the wall and relate that back to your work as a copywriter or portrait painter or hotel manager. Write yourself a prompt, "What does this image say about pareto planning for office managers" and before you negate the question write your way into it.
Write your way into and through whatever is in front of you.
Finally give yourself the freedom to say whatever it is you need to say to the world.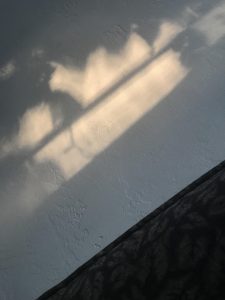 Yes, I wrote the above words in a five minute free writing Brain Dump. I didn't edit or think, I just wrote. This morning when I was still in bed and not feeling well physically (I still don't) I saw this – and took a photo:
I set my phone timer to five minutes wrote into my phone notes section.
Shadows of mulberry leaves etched in my sky blue walls promise nothing and I write them, anyway. I only now notice my fading, needs to be reupholstered couch is also covered with leaves, sketched against blue, waiting to be noticed and remembered.
These last 24 and a few more hours have little within them I want to continue to carry beyond these words. My thirst recollects being quenched, my feet remember feeling strong and optimistic, my eyes remember looking straight ahead, determined and magnetized by the eastern horizon as blank slates of a new day rose to greet me with fluid consistency.
What changed?
What blighted my perception?
What is it that makes me surrender to even a moment lost to its residual calling?
Today I stared at losses of two particulars, non abstractions and shrugged. My muscles go limp and I slither down the slide. 
5 minutes. Done.
Now it's your turn. Write for your five minutes. Take a photo of whatever is in front of you and allow that to inspire you for a mere five minutes at your keyboard or in your notebook or writing into your phone notes section as if you were texting a friend.
For a bonus, set your timer for another 5 minutes and ask yourself, "How does this relate to my current (project, plan, challenge) in my work life?" and write for 5 more minutes. No planning, no forethought just write.
If you are in our Facebook Group – the link is here – post a photo and your writing in a safe space.
If you aren't in our facebook group, post a comment here or email me at juliejs@creativelifemidwife.com
Julie Jordan Scott inspires people to experience artistic rebirth via her programs, playshops, books, performances and simply being herself out in the world.  She is a writer, creative life coach, speaker, performance poet, Mommy-extraordinaire and mixed media artist whose Writing Camps and Writing Playgrounds permanently transform people's creative lives. Watch for the announcement of new programs coming soon!
To contact Julie to schedule a Writing or Creative Life Coaching Session, call or text her at 661.444.2735.
Check out the links below to follow her on a bunch of different social media channels, especially if you find the idea of a Word-Love Party bus particularly enticing.