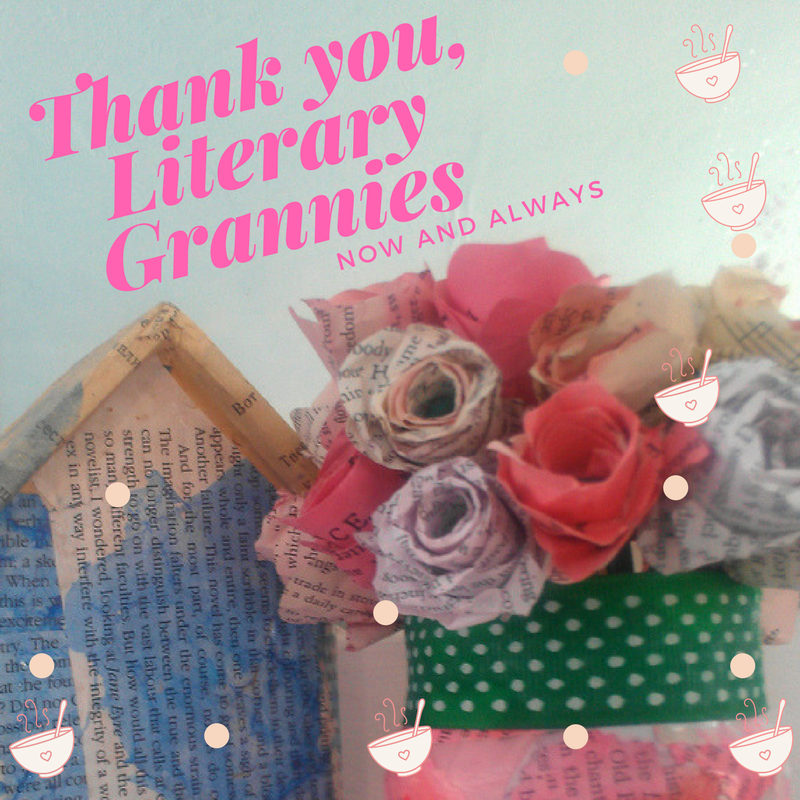 It isn't a secret I love literary grannies: women writers who forged a path so that my words would be more respected than they might have been without them. I've written about them, I've visited many homes and gravesites and workspaces.
I've shared their work, I've fangirled their books, I've searched for photos, made jewelry and mixed media art emblazoned with their faces. I love these women similar to how I have crushes on Albert Schweitzer and Henry David Thoreau.
Recently I've been thinking about my literary grannies more and more and after finding the opening quote from Anne Sexton, it only seemed right to continue my thoughts in poem form.
I created this prompt as well – which you may also see in my Instragram Feed or on my Writing Camp with JJS facebook page.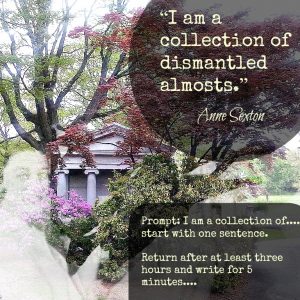 For The Others
"I am a collection of dismantled almosts." 
― Anne Sexton,
Have you heard the debate about 13 reasons why?
I wonder what Anne would say?
I wonder how Sylvia would spin it?
I wonder what Virginia and Sara might chime in when people made statements like "don't watch" or "you must watch" or "we must talk about this" we must break down the walls.
A slight mist of a memory taps on my fingers.
"Remember Mr. Riordan (not exactly his name – the context here has given him a pseudonym(
gave your paper to the student teacher to grade.
Did she ever say anything to anyone about the story I wrote?
The story of suicide? The months later when I hid in a closet rather than go to school?"
No one said depression back then. No one suggested I might be fragile.
Might benefit from having someone of my own to talk to.
Someone who would listen without being afraid of what might dissolve
If I gave it voice.
My life now, becoming a love letter to her from the future.
I was a collection of dismantled almosts, like Anne.
And like Sylvia, I know the value of expecting nothing from anybody
Except for myself – now.
 "If you expect nothing from anybody, you're never disappointed."
Sylvia Plath
This is for you, Anne.
And you, Virginia.
And you, Charlotte.
And you, Sara.
And you, Sylvia.
This is for the women who remain nameless –
= = =
I also wrote this as a facebook status/note  after seeing yet another commentary on why we should or shouldn't watch the controversial Netflix series, "13 Reasons." Here it is:
I've been listening/reading the conversation about "13 Reasons", the Netflix series about teen suicide. Tonight when I read an article about it and how a counselor at Montclair Public Schools wrote a letter that was sent to all parents in their schools about it.
This reminded me of a short story I wrote in eighth grade about a girl attempting suicide. I got a decent grade, but I remember being disappointed I wasn't pulled aside to talk. When I hid in a closet for four days during school hours to avoid going to school because I was bullied and taunted, it wasn't talked about (to me) afterwards either.
After I graduated from Dana Hills high school, four classmates killed themselves. Discussed only in passing.
When Marlena was stillborn and I finally went to therapy and my therapist said the word "depression" in relationship to me I remember hearing my heartbeat crushingly loud in my ears. I could barely hear myself mumble that away. "This is situational…" I think I lasted two more sessions.
We need to talk openly about mental illness and grief. It isn't drama or manipulation. It isn't game playing. People with mental illness are not to be avoided and for goodness sakes, don't ignore them – we all deserve to be heard. When I am in a depressed phase, having no one talk with me is beyond words sad.
I'm sleepy. Just wanted to say this before I went to sleep.
http://www.cnn.com/…/13-reasons-why-teen-suicide-debate-ex…/
Julie Jordan Scott inspires people to experience artistic rebirth via her programs, playshops, books, performances and simply being herself out in the world.  She is a writer, creative life coach, speaker, performance poet, Mommy-extraordinaire and mixed-mediaartist  whose Writing Camps and Writing Playgrounds permanently transform people's creative lives. Watch for the announcement of new programs coming through the end of 2016.
To contact Julie to schedule a Writing or Creative Life Coaching Session, call or text her at 661.444.2735